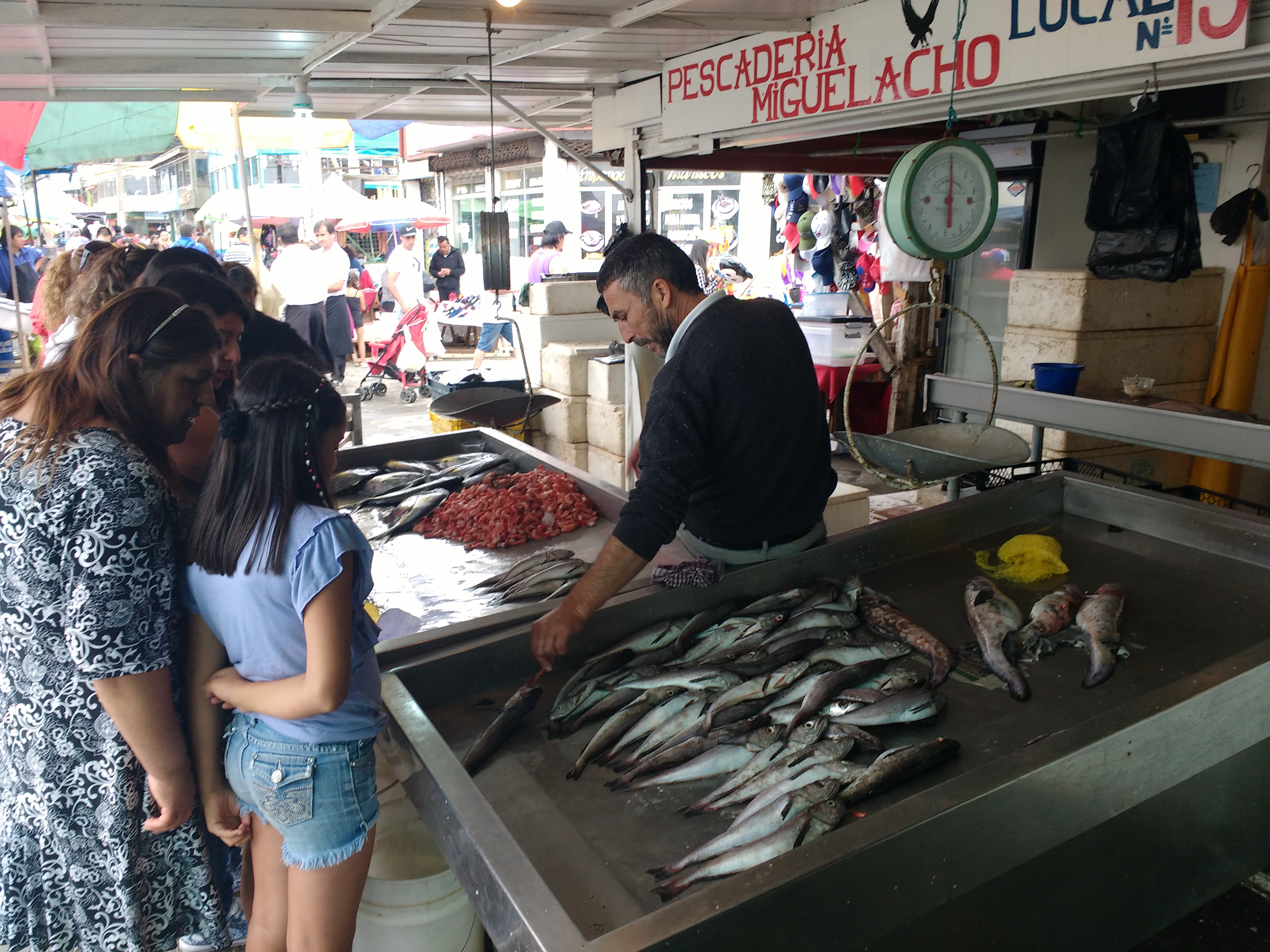 The meeting was brief, but the enthusiasm for innovation was clear. "This is a place where a whirlwind of potential ideas to increase the value of their hake fills me with optimism," says Iván Greco, Future of Fish Research Associate. He had arrived in San Pedro de Concón, a fishing caleta two hours away from San Antonio, Chile to meet with the recently elected fishing syndicate leader, Julieta. During the 45 minute chat, Iván had a chance to share some of the findings from our research and, most importantly, listen and gather feedback on this initial work from the real experts—the fishers and stakeholders who fish and trade common hake every day.
This meeting was one of several that marked the initiation of our Design and Demonstration (D&D) phase of our Fisheries Development Model in Chile. A core part of D&D is the co-design process. This is a design approach that engages stakeholders as partners in the design process to collectively identify specific interventions and the action and business plans to implement them.
The Co-Design Approach: The Stakeholders are the Experts
The theory behind this approach is that the wisdom for finding solutions lies in the system itself. Our job is to help stakeholders surface and shape their ideas and facilitate effective collaborations that will allow these solutions to grow and scale. To do this, we build off our systems insights generated by the Research Phase in order to target where the system needs to be pushed in order to create legal, traceable, trustworthy common hake—and then engage the stakeholders directly to ideate and refine intervention ideas.
For co-design to work, we have to build trust with stakeholders and partners on the ground who can become implementers of these interventions. With so much diversity among different fishing caletas, and five areas of opportunity that we believe are ripe for development, the first step in co-design in Chile was to meet with multiple syndicates, share our findings, and gather lots and lots of feedback.
Cruising the Coast Once Again
With gathering feedback in mind, Iván returned to Chile this past Spring. We were extremely fortunate this time to have close collaboration with regional experts,
WWF Chile
and
ECOS
, for this journey. Both groups have been working within the fishing syndicates for years and due to their dedicated, humble, and transparent engagement have earned the trust from fishers and syndicate leaders. Their support was critical in providing initial thoughts on our ideas, where we should go, who to engage, and providing those introductions.
In each community, our partners and Iván focused on listening to concerns and recording feedback regarding the following five areas of opportunity we have defined:
Shortening and aligning the supply chains;
Diversification of the fishery, caletas and syndicates;
Driving branding and story;
Creating safety nets to reduce effort; and
Amplification and coordination of innovation across the system.
We listened for where there are existing initiatives we could build upon that might fall within these buckets, and most importantly, discussed our approach. Honest and open conversations about Future of Fish's collaborative approach and our firm belief in co-development of ideas is key to generating trust and engagement. We want to make sure that we are co-designing for useful interventions that are supported by the fishers and broader stakeholders. Our aim is to help design interventions that address fisher needs as well as the environmental, economic, and social considerations that are needed to support recovery of the fishery.
Across 2000 kilometers and seven caletas, we briefly introduced our opportunity area ideas to the syndicate representatives. We also got to deepen our engagement with our on the ground partners (road trips are great for discovering one another's quirks and idiosyncrasies). We gained valuable feedback to help ensure our vision is aligned with that of fishers on the ground.
The Potential for Creativity To Thrive
Each caleta has its own unique mix of fisheries, cultural tendencies, histories, and leadership capacity. Such diversity provides an enormous bank of raw material from which we can ideate; but it also helps show why we need a co-design approach: different interests, skill sets, and available resources will shape what kinds of interventions are more or less appropriate for different communities.
Here is just a brief glimpse into the great and diverse potential we found:
Caleta Coquimbo is an impressive example of resilience. After the 2015 earthquake and Tsunami, fishers are today fully operative again—even after losing 99% of their boats and having their syndicate building heavily damaged.
San Antonio, in the 5th region of Valparaíso, is a place where interesting ideas for re-aligning the value chain, working to soften the middlemen's asymmetric power relations, and getting direct supply chain links with Santiago Open Air Market vendors, are all of great interest and show strong potential.
San Pedro de Concón, and their new leader Julieta, defy the limits of innovation: from working with local community children to paint a mural within their caleta, through exploring trout aquaculture with a local university as a pathways to diversify income, to utilizing GPS alarm systems to reduce poaching and enforce local TURFs for locos conchalepas.
A self-imposed management scheme for kelp surprised us in the town of Pichilemu, in the O'Higgins region. The role of seaweed as part of a diversification strategy for hake shows strong potential as the disillusioned fishers struggle with negligible hake quota and the semi-industrial fleet bottom trawls fish right before them.
The Region of Maule is a place where political tension is high due to perceptions of a mismatched quota between a perceived abundance of hake in the region and the low regional Total Allowable Catch (TAC) allocated to them by the Fisheries Undersecretary, Subpesca. This is particularly difficult because most of the caletas in the region are monospecific: they land high volumes of hake, and because of the low quotas, resort to underreporting most of their catches. Few fishery diversification strategies appear to be envisioned here.
This trip is the beginning of a long journey, and we are enthusiastic about the outcomes that will manifest in the coming months as the design of our projects ramp up. This trip was also an important next step in coordinating with our partners, in building relationships, and in building an atmosphere of collaboration that is necessary to make this work successful. Stay tuned for updates on how the design process unfolds, including locations where we will be implementing, and progress on various projects unfolds. It's an exciting road ahead!
Desarrollando Confianza y Asociaciones para el Co-Diseño en Chile
La reunión fue breve, pero el entusiasmo por la innovación quedo en evidencia. "Este es un lugar donde un torbellino de posibilidades para aumentar el valor de la merluza me llena con optimismo," dijo Iván Greco, Investigador Asociado de Future of Fish. Había llegado a San Pedro de Concón, una caleta pesquera situada a dos horas de San Antonio, Chile para reunirse con la recientemente electa dirigente sindical, Julieta. Durante la conversación que duró unos 45 minutos, Iván tuvo la oportunidad de compartir algunos hallazgos de nuestra investigación, y más importante aún, escuchar y recibir comentarios respecto de su trabajo inicial en la voz de los verdaderos expertos—los pescadores y los actores del sector pesquero quienes se dedican a la pesca y a intercambiar merluza común todos los días.
Esta reunión fue una de las varias que marcó el inicio de nuestra fase de Diseño y Demostración (D&D) de nuestro Modelo de Desarrollo Pesquero en Chile. Una parte esencial del D&D es el proceso de diseño compartido. Se trata de un enfoque de diseño con la participación de los interesados como asociados en el proceso de diseño a fin de identificar en forma colectiva, las intervenciones específicas, las acciones y los planes comerciales necesarios para ponerlo en marcha.
El Enfoque de Diseño Compartido: Los Interesados son los Expertos
La teoría detrás de este enfoque es que la sabiduría para encontrar soluciones yace en el sistema mismo. Nuestro trabajo es ayudar a los interesados a identificar y dar forma a sus ideas y facilitar las colaboraciones que permitirán hacer crecer y escalar estas soluciones. Con este propósito, nos basamos en nuestras visiones de sistemas generados por la Fase de Investigación para identificar donde presionar el sistema a fin de crear merluza común legal, trazable y confiable—y luego comprometer directamente a los interesados para idear y afinar ideas de intervención.
Para el trabajo de diseño compartido, hemos desarrollado una relación de confianza con los interesados y los asociados en terreno, quienes se pueden convertir en los futuros co-diseñadores y ejecutores de estas intervenciones. Existiendo una amplia diversidad entre una gran cantidad de caletas pesqueras, y cinco áreas de oportunidades que nosotros consideramos están preparadas para el desarrollo, el primer paso en el diseño compartido en Chile fue reunirse con varios sindicatos de pescadores compartir nuestros hallazgos y reunir una gran cantidad de retroalimentación.
Navegando por la Costa Nuevamente
Es así que Iván volvió a Chile en la primavera recién pasada. Durante este viaje, fuimos extremadamente afortunados de haber podido desarrollar una colaboración estrecha con expertos regionales, WWF Chile y
ECOS
. Ambos grupos han estado trabajando con los sindicatos de pescadores durante muchos años, y debido a su compromiso dedicado, humilde y transparente, se han ganado la confianza de los pescadores y los dirigentes sindicales. Su apoyo fue muy valioso al momento de ofrecer sus opiniones iniciales respecto de nuestras ideas, hacia donde dirigir nuestros esfuerzos, identificar a las personas con las que podíamos interactuar y facilitar el contacto con ellos.
En cada comunidad, nuestros asociados, junto con Iván, se concentraron en escuchar las inquietudes y registrar la retroalimentación relacionada con las siguientes cinco áreas de oportunidad que hemos definido:
Acortar y alinear las cadenas de abastecimiento;
La diversificación de la pesquería, las caletas y los sindicatos;
Impulsar la identificación de marcas y comunicar las historias;
Crear redes de seguridad para reducir el esfuerzo; y
Amplificar y coordinar la innovación a través del sistema.
Estuvimos atentos para identificar las iniciativas que podríamos desarrollar y que podrían clasificarse en estas categorías. Las conversaciones honestas y abiertas acerca del enfoque de colaboración de Future of Fish y nuestra firme convicción en el desarrollo compartido de ideas es clave para generar relaciones de confianza y compromiso. Queremos asegurarnos de que estamos realizando un diseño compartido para intervenciones que sean de utilidad y que cuenten con la aprobación de los pescadores y el grupo más amplios de interesados. Nuestro objetivo es ayudar a diseñar intervenciones que aborden las necesidades de los pescadores, así como las consideraciones ambientales, económicas y sociales que se requieren para apoyar la recuperación de la pesquería.
A lo largo de 2000 kilómetros y siete caletas, brevemente presentamos nuestras ideas relacionadas con áreas de oportunidad a los representantes de los sindicatos. Asimismo, pudimos profundizar nuestro compromiso con nuestros asociados en terreno (los viajes por carretera son una excelente oportunidad para descubrir las peculiaridades y las idiosincrasias de cada uno). Obtuvimos valiosa retroalimentación para poder asegurarnos de que nuestra visión coincida con la de los pescadores en terreno.
El Potencial Para la Creatividad es Abundante
Cada caleta cuenta con propia mezcla única de pesquerías, tendencias culturales, historias y capacidad de liderazgo. Dicha diversidad nos proporciona un gran suministro de materia prima para elaborar ideas; pero también ayuda a demostrar por qué necesitamos un enfoque de diseño compartido: los distintos intereses, habilidades y recursos disponibles darán forma al tipo de intervenciones que sean más o menos apropiadas para las distintas comunidades.
A continuación, les ofrecemos una mirada breve del potencial grande y diverso que encontramos:
La Caleta Coquimbo es un ejemplo impresionante de resiliencia. Después del terremoto y Tsunami del 2015, los pescadores se encuentran hoy completamente operativos- incluso después de haber perdido 99% de sus embarcaciones y de los graves daños ocasionados a su edificio sindical.
San Antonio, ubicado en la 5ª Región de Valparaíso, es un lugar de gran interés y potencial, en el que existen ideas interesantes para volver a unificar la cadena de valor, trabajar para suavizar las relaciones de poder asimétricas de los intermediarios y establecer vínculos directos de la cadena de abastecimiento con los vendedores del Mercado al aire libre en Santiago.
San Pedro de Concón, y su nueva dirigente Julieta, desafían los límites de la innovación: desde el trabajo con los niños de la comunidad local para pintar un mural en su caleta, al estudio del cultivo de trucha con una universidad local, como caminos para diversificar sus ingresos, el uso de sistemas de alarmas con GPS para reducir la pesca furtiva y la implementación de derechos de uso territorial para la extracción de locos conchalepas.
Un sistema de majo voluntario para para las algas nos sorprendió en la ciudad de Pichilemu, en la Región de O'Higgins. El papel que desempeñan las algas como parte de una estrategia de diversificación de la merluza, demuestra las grandes posibilidades que existen mientras los pescadores desilusionados luchan con una cuota insignificante de merluza y la flota de arrastre semi-industrial pesca frente a ellos.
La Región del Maule es un lugar donde existe una importante tensión política debido a la impresión de una disparidad en las designaciones de cuotas considerando la aparente abundancia de merluza en la región y una Captura Total Admisible baja que les asigna la Subsecretaría de Pesca, Subpesca. Esto es particularmente difícil dado que la mayoría de las caletas en la región son mono-específicas: desembarcan grandes volúmenes de merluza y debido a los niveles bajos de cuotas, recurren a la práctica del sub-reporte de la mayoría de sus capturas. Se vislumbran pocas estrategias de diversificación pesquera en este caso.
Este viaje es el principio de un largo viaje, y estamos muy entusiasmados acerca de los resultados que se manifestarán en los siguientes meses, en la medida que se intensifique el diseño de nuestros proyectos. Este viaje es también un importante siguiente paso en la coordinación con nuestros asociados, en el desarrollo de relaciones y en la creación de una atmosfera de colaboración que es necesaria para que este trabajo sea exitoso. Manténganse al tanto de las actualizaciones respecto de cómo se desenvuelve el proceso de diseño, incluyendo los lugares en los que estaremos implementando los proyectos y el progreso alcanzado en el desarrollo de los mismos. ¡Se aproxima un camino muy emocionante!