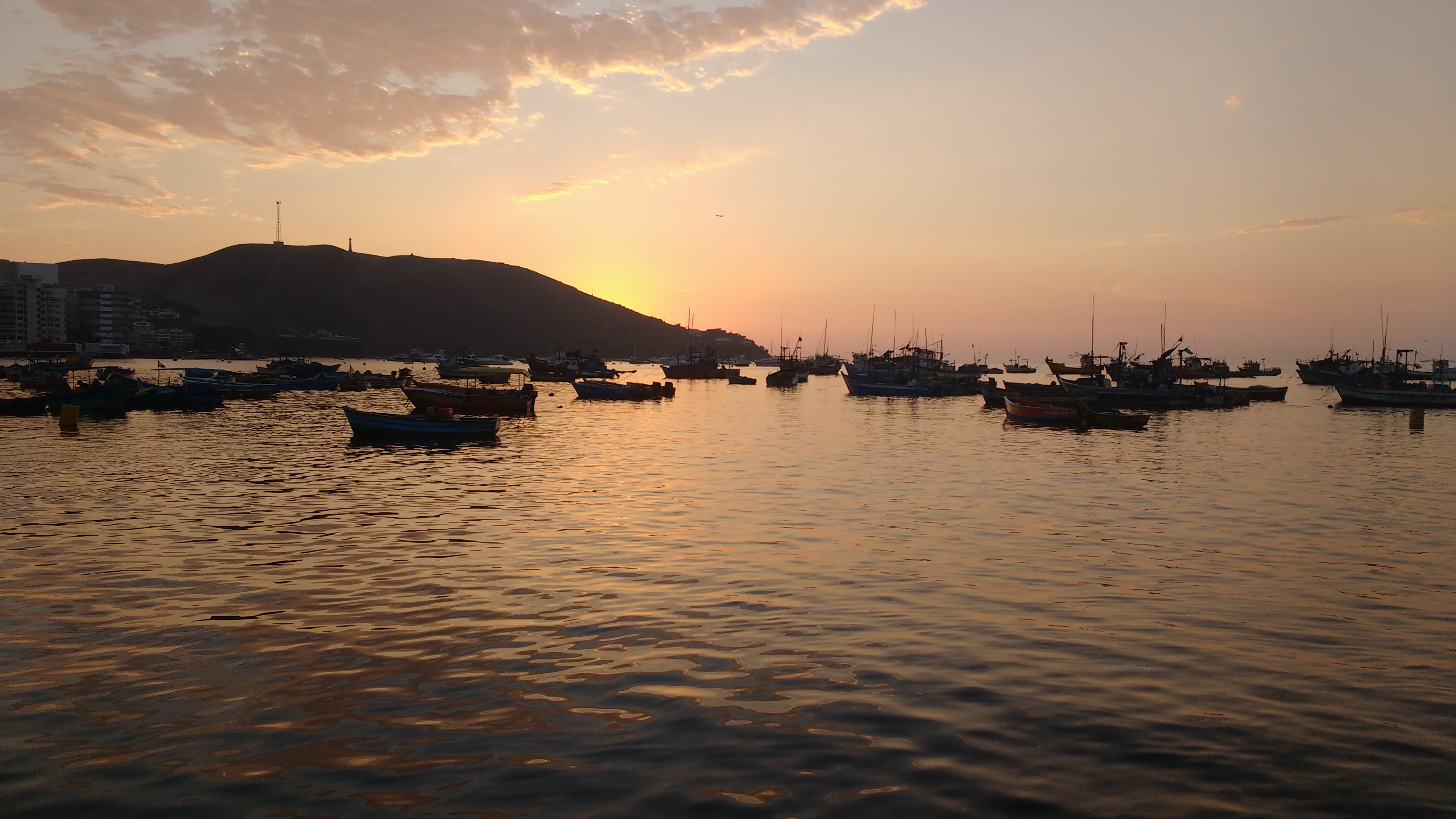 Part 2 of our series "From Management to Markets"
We last left you in Peru where our team explored two fishing communities with different cultural histories and supply chains. Both of these fishing communities had introduced self-imposed closures and put mechanisms in place to reduce unregulated and open access fishing practices in order to preserve their resources and improve community livelihoods.
As part of our fishery development model we take a comprehensive look at value chains and markets. We immerse ourselves in all nodes of the supply chain and try to gather as thorough a knowledge as possible from all stakeholders. We couple this information with a robust global market analysis to create a map of the value chain and to identify opportunities for creating aligned supply chains that will promote best management practices while supporting the livelihoods of the communities that depend on these vital resources.
In the case of benthic fisheries, our objective is to build on the extensive work that TNC Peru and A Comer Pescado have done to map these fisheries to premium domestic markets with local retailers and restaurants, in an effort to better understand how we might connect mixed benthic fishermen that practice responsible management with markets that value these sustainable products. More specifically, our goal is to make sense of the dynamics, motivations and financials outcomes for all stakeholders in the system including fishers, seafood buyers and transporters, processors, market vendors, aggregators, retailers, restaurateurs and end consumers. We also seek the expertise and partnership of local organizations with invaluable on the ground experience as well as government agencies and ancillary stakeholders impacted by these fisheries.
It's Complicated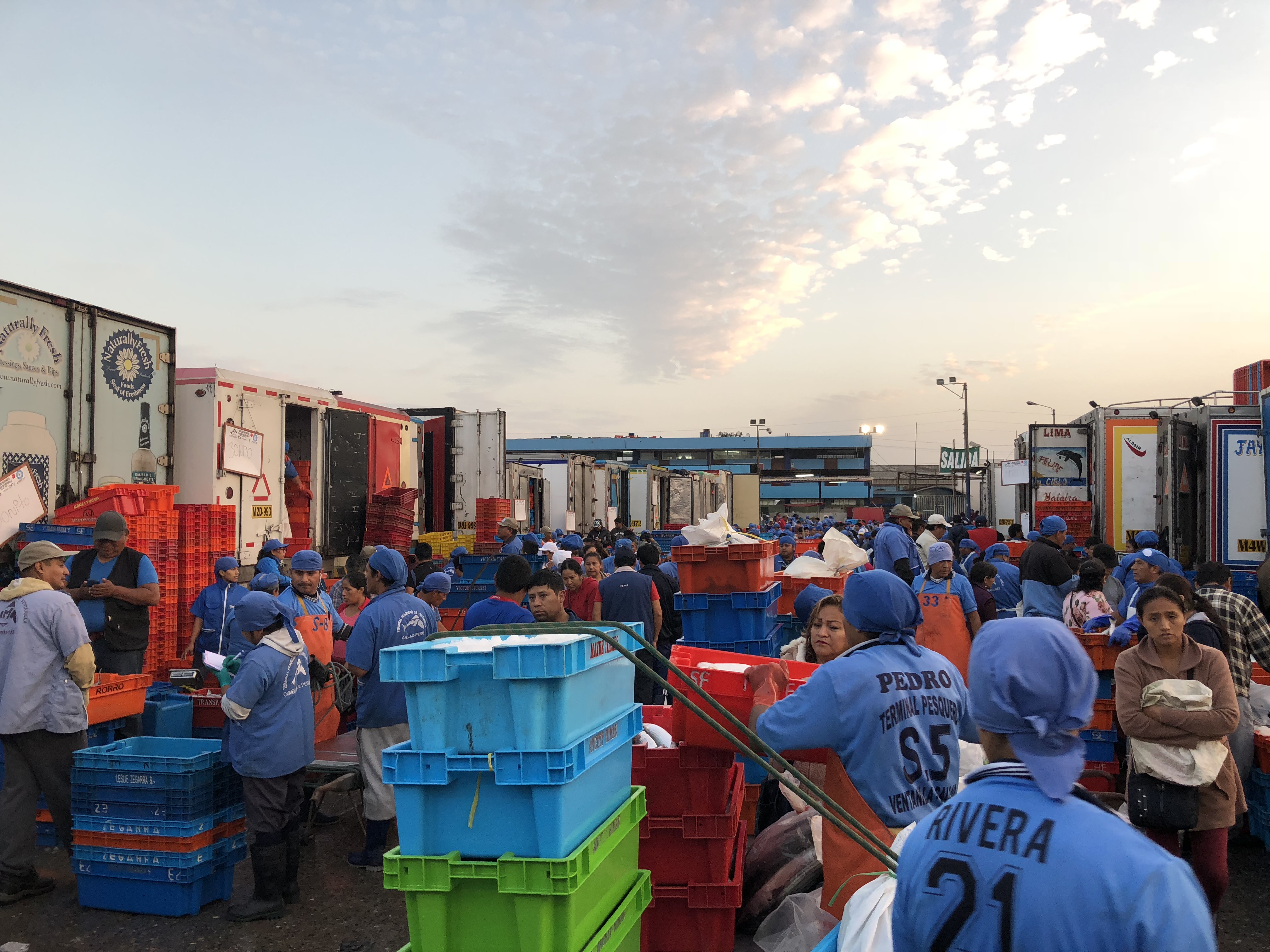 As with so many seafood supply chains, it's complicated. For many supply chains, tracing a product from source to end user can be next to impossible and the supply chains from Ancón and Marcona are no exception. For both Ancón and Marcona we were focusing on benthic species, primarily octopus, snails, crabs, urchin, and seaweed. Currently, both fishing communities are dependent on large central markets (terminals) in Lima, namely Villa Maria and Ventanilla where seafood of every type is aggregated and sold. These bustling markets come to life every morning as early as 3 am when sellers bring in their freshly caught seafood to either be processed or sold. On the mornings that Future of Fish visited the terminals, wholesale and retail buyers, chefs, transporters, the general public, and curious tourists could be found purchasing seafood from tables arranged by product type and set up that morning. Once the product from Ancón or Marcona arrives at these markets it is increasingly difficult to determine where it goes next and ultimately, where it ends up. There is little product differentiation other than the keen eye of the buyer for premium quality and best price.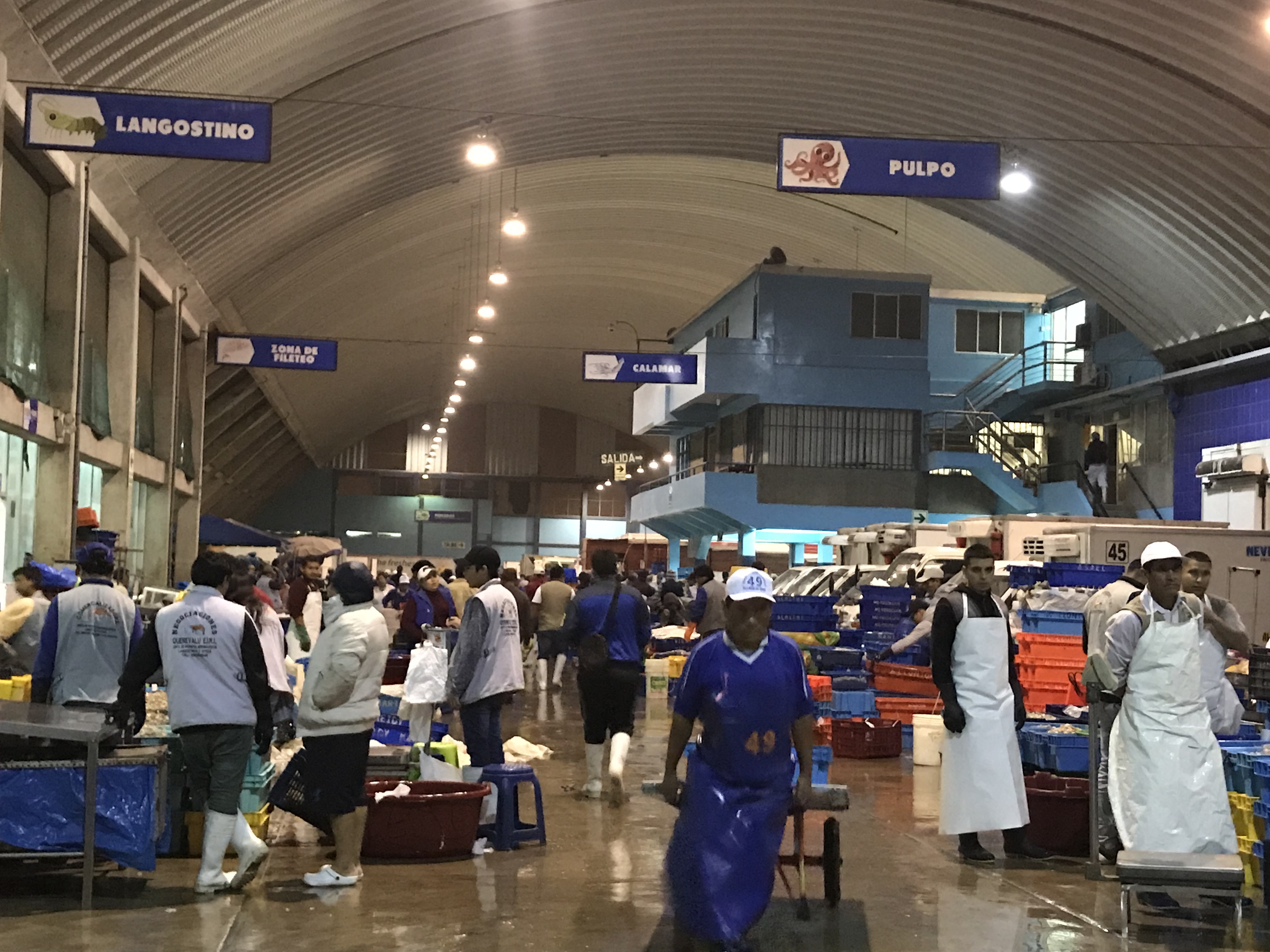 Before it even arrives at this market the product could have already exchanged hands multiple times. In the case of Marcona, urchin can have two to three "buyers" or transporters before it reaches the market. From Ancón, each species has a dedicated buyer or two that brings all the product to the central market.
Gastronomic Boom
Peru's cuisine is heavily influenced by its local and indigenous culture and ingredients as well as the culture brought by immigrants from Europe, Asia, and Africa. Peru is world renowned not only for ceviche, but for its ability to beautifully fuse ingredients and cultures in its cuisine. The
booming gastronomy scene
in Lima brings people from all over the world to celebrate its culinary excellence and Peruvian chefs are honored and adored both nationally and at a global scale. Throughout Peruvian cuisine, themes of innovation, fusion, and revitalization, as well as appreciation of local and indigenous culture, methods, and ingredients can be found. This rising celebrity of chefs also puts them at the forefront of innovatin in regards to sustainability and traceability and makes this chef-led gastronomic boom in Peru an opportunity to drive change.
In regards to the importance of sustainably managing Peruvian fisheries and implementing traceability, Executive Chef Gustavo Montestruque Bisso has been one of the Peru's most active advocates. "[Sustainability and traceability] is very important to me and our team, since it is what will consistently generate product of quality and quantity for us, and is a way to protect our resources. Lately, I think it is becoming more important to our customers, but I feel they still lack awareness."
Ripe for Innovation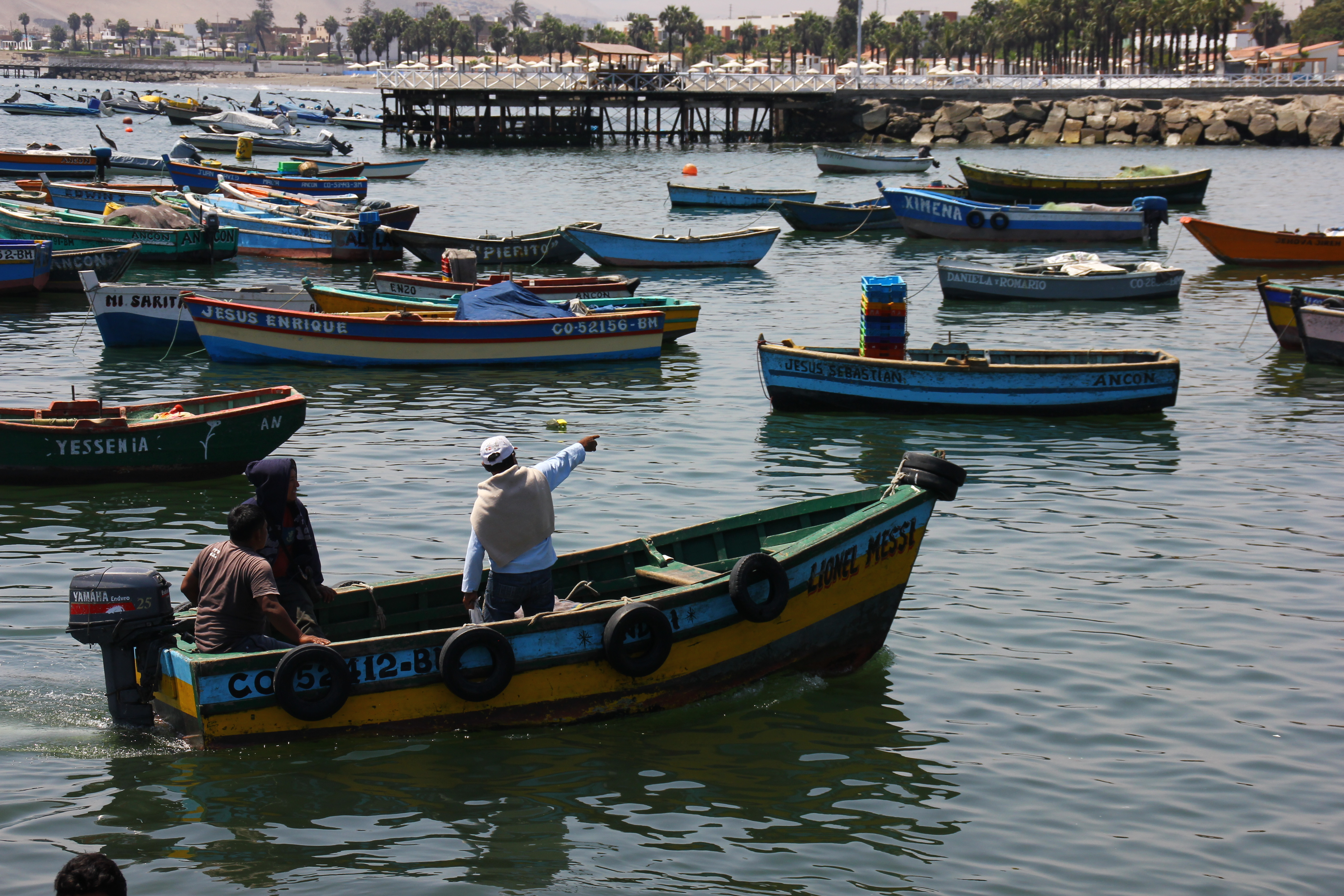 The beginnings of organization and self-management in Ancón and Marcona's complex, opaque, and inefficient supply chains, and a culture of culinary innovation and excellence, is setting the stage for innovation in seafood supply chains. Fishers are wanting to have more control over their product and see the benefits of their new management system. In Ancon, for example, TNC's capacity-building efforts over the last few years have allowed divers to see the long-term benefits of resource management, and has motivated them to gain more control over their products and supply chains. Chefs are looking for the highest quality product. We wonder what the opportunity is for story and branding that direct, traceable supply chains can provide. We also found it interesting that farmed tilapia and basa were so prevalent in retail outlets and are interested to dive in more to learn how increasing transparency and reducing the complexity of paperwork could increase the presence of local product in retail markets.
At Future of Fish we look for opportunities to catalyze and support nascent projects and work that have the potential to create systemic change. In our time in the field we were able to see exciting work in action that was aimed at creating transparent and efficient supply chains while generating better returns to artisanal fishers. For example:
José Fernandez, also known as Pepe Cangrejo, has a family-owned restaurant in Ancón that sources directly from divers. Through a unique meat extraction technique, he is the only person in Ancón to produce picked crab meat, which is the staple of his restaurant. In this model, he also pays divers prices that are equal or better than if they sold at the market themselves, but without the input costs of getting to market.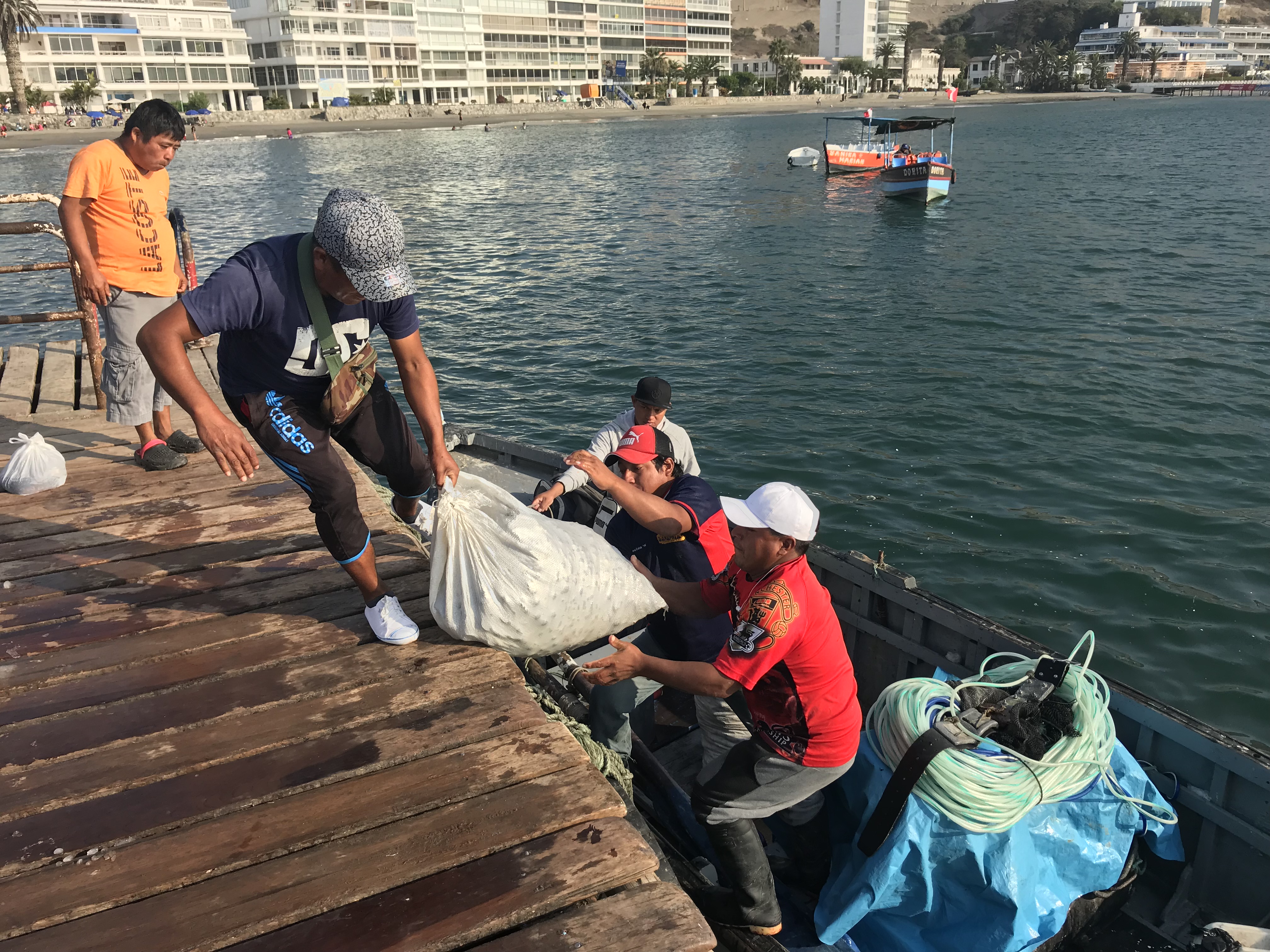 Sustainable Fishery Trade
(SFT) is a social enterprise dedicated to fair and sustainable trade in artisanal fisheries. They are working to shorten the supply chain through connecting fishers directly with chefs in high-end restaurants in Lima. SFT handles the sales, processing, transport, and logistics of high quality product while allowing fishers to focus on what they believe is their core competency: fishing. They do this while giving fishers better returns for their product. They also offer training in responsible fishing practices and are advancing traceability in their supply chains through the utilization of a digital traceability platform they adapted from Portuguese company, Bitcliq. Direct to consumer models and meal kits are also a new and burgeoning opportunity in Peru, and SFT has capitalized on this through their Fish Box program that delivers boxes of local fish directly to consumers.
A Comer Pescado (To Eat Fish, in English), a government program connecting fishers to restaurants is also working to bypass the traditional aggregation at the seafood terminal, promoting direct transactions between artisanal fishermen and restaurants in an effort to help these fishermen attain better prices for their products. And while in the field, we were able to see urchin harvested in Marcona and then later enjoy urchin sushi and ceviche served at Japanese Fusion restaurant, Ache, in Lima, which was buying direct from Marcona through the program.
Over the next month we will be digging into these complex issues and opportunities to explore how we might not only create more efficient supply chains to generate greater returns, but how supply chains can be created to unlock value or balance power dynamics. In particular, how can supply chains be aligned with best management and not create perverse incentives to exploit marine resources or the communities that depend on them? Peru's artisanal fisheries and chef-led culinary revolution appear primed for innovation in seafood sustainability, especially if a standard definition of what sustainability and traceability means for Peru can be defined.
___________________________________________________________________________
Perú Preparado para la Innovación de la Cadena de Abastecimiento
Parte 2 de nuestra serie "Desde el Manejo a los Mercados"
La última vez que escribimos los dejamos en Perú donde nuestro equipo estudió las costumbres de dos comunidades pesqueras que cuentan con diferentes historias culturales y cadenas de abastecimiento. Ambas comunidades implementaron vedas voluntarias y prácticas de pesca de libre acceso no regulada para preservar sus recursos marinos y mejorar los medios de subsistencia de la comunidad.
Como parte de nuestro método de desarrollo pesquero, examinamos exhaustivamente las cadenas de valor y los mercados. Nos sumergimos en todos los nodos de la cadena de abastecimiento para intentar reunir el conocimiento más exhaustivo posible de todos los interesados. Reunimos esta información junto con un análisis robusto de mercado global para crear un mapa de la cadena de valor e identificar oportunidades para crear cadenas de abastecimiento unificadas con el fin de promover las mejores prácticas de manejo, y a la vez, brindar apoyo a los medios de subsistencia de las comunidades que dependen de estos
recursos imprescindibles.
TNC has been and will continue to be a key on the ground partner in supporting the development of local initiatives for verifiable and responsible sourcing of seafood products, due to their extensive work in local fishing communities (particularly Ancon) and relationships with fishermen.
En el caso de las pesquerías bentónicas, nuestro objetivo es construir a partir del extenso trabajo que
TNC Perú
y
A Comer Pescado
han realizado para mapear estas pesquerías a los mercados domésticos premium que tienen los minoristas y restaurantes locales, para que podamos entender mejor cómo podríamos conectar a pescadores bentónicos mixtos que practican la gestión responsable con mercados que valoran estos productos sostenibles. Más específicamente, nuestro objetivo es hacer sentido de la dinámica, las motivaciones y los resultados financieros para todos los interesados que participan en el sistema, incluyendo a los pescadores, compradores y transportistas de productos del mar, procesadores, vendedores de mercado, agregadores, minoristas, dueños de restaurantes y consumidores finales. Asimismo, buscamos la visión de personas que aportan con su conocimiento experto y formar asociaciones con organizaciones locales con valiosa experiencia práctica, así como con instituciones de gobierno y actores externos que se ven afectados por estas pesquerías.
Es Complicado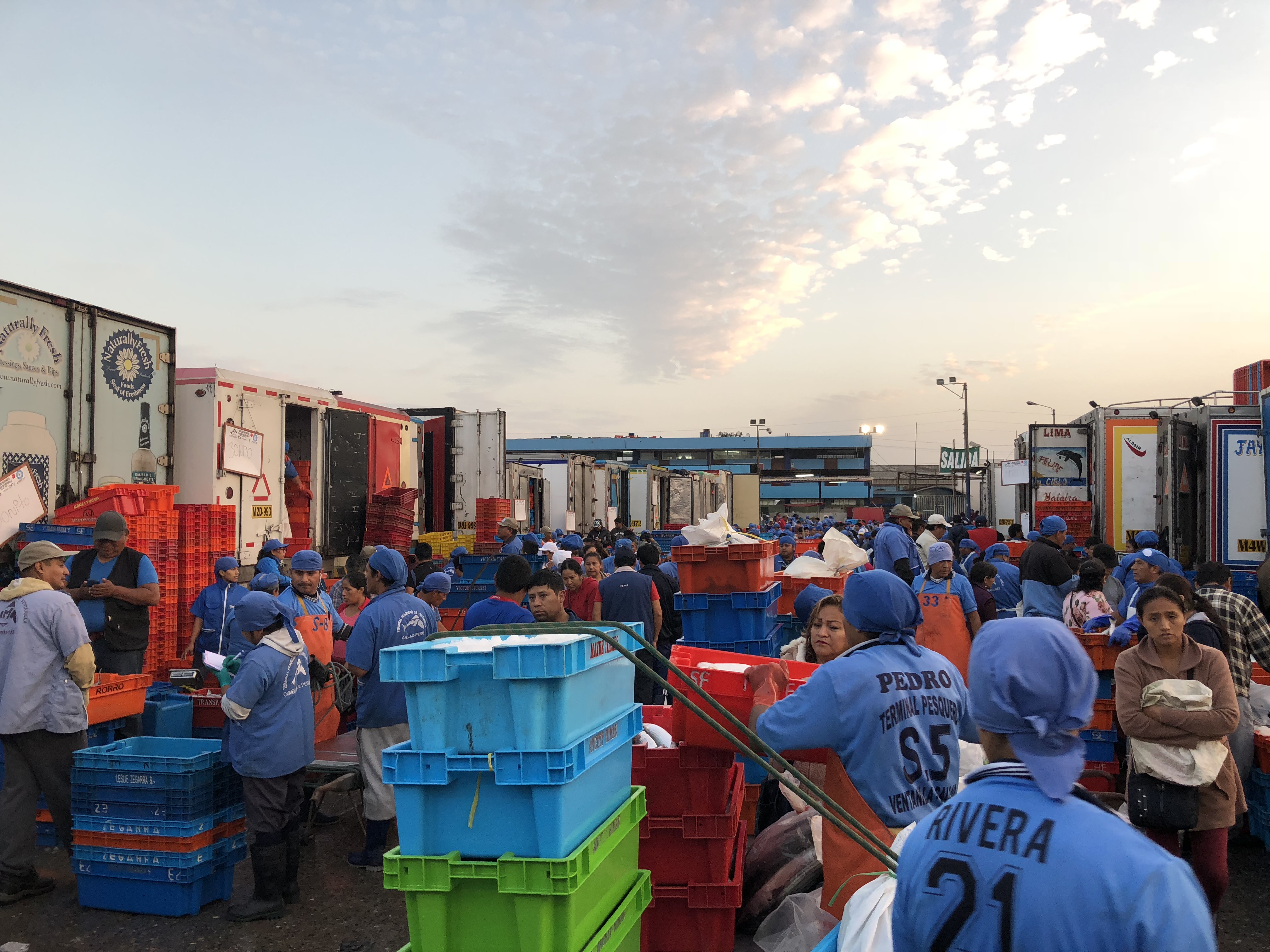 Tal como sucede en el caso de muchas cadenas de abastecimiento de productos del mar, el tema es complicado. En el caso de muchas cadenas de abastecimiento, rastrear un producto desde la fuente hasta el usuario final, puede ser casi imposible y las cadenas de abastecimiento desde Ancón y Marcona, no son una excepción. Tanto en Ancón, como en Marcona, nos concentramos en las especies bentónicas, principalmente recursos como pulpo, caracol, jaiba, erizo y algas. En la actualidad, ambas comunidades pesqueras dependen en gran medida en los mercados centrales (terminales) en Lima, principalmente Villa María y Ventanilla, donde se venden y agregan productos del mar de todo tipo. Estos productos marinos frescos recién capturados se destinan al procesamiento o a la venta. Durante las mañanas en las que Future of Fish visitó los terminales pesqueros, observamos a compradores mayoristas y minoristas, chefs, transportistas, público general, y turistas curiosos comprando mariscos que estaban dispuestos sobre mesones que habían sido armados esa misma mañana y separados por tipo de producto. Una vez que el producto llega a estos mercados desde Ancón o Marcona, es cada vez más difícil determinar hacia donde se dirige a continuación y cuál es su destino final. A menos que se trate de un ojo experto, es muy difícil distinguir entre los productos de primera calidad y los mejores precios.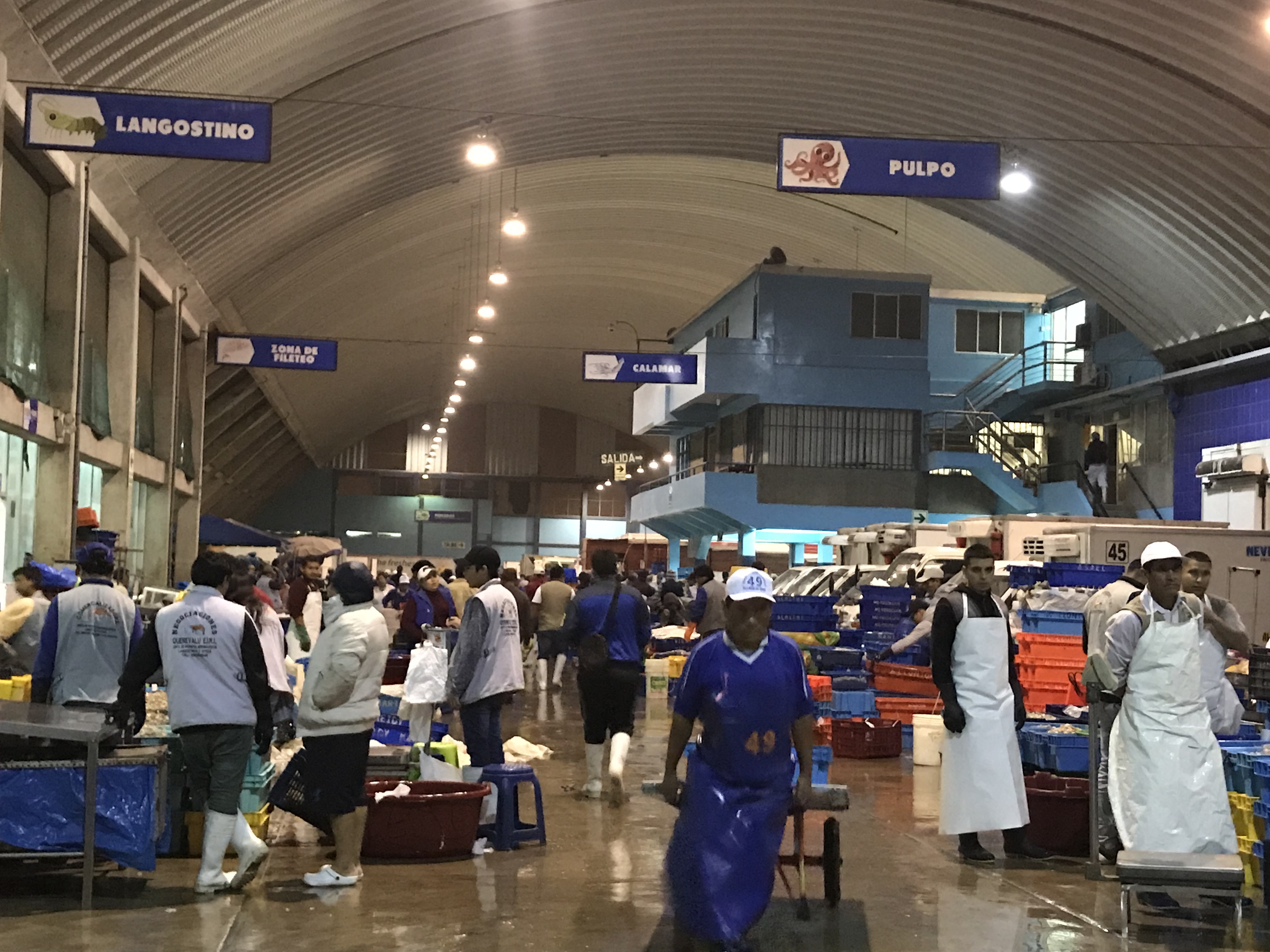 Incluso antes de llegar a este mercado, el producto podría haber cambiado de manos muchas veces. En caso de Marcona, los erizos pueden tener hasta 2 o 3 "compradores" o transportistas antes de llegar al mercado. Dede Ancón, cada especie tiene uno o dos compradores exclusivos que lleva todo el producto al mercado central.
Boom Gastronómico
La cocina de Perú está fuertemente influenciada por su cultura indígena y local, así como por la cultura traída por inmigrantes desde Europa, Asia, y África. Perú es conocido mundialmente no sólo por el ceviche, sino que también por su capacidad para fusionar estos diversos ingredientes y culturas de manera maravillosa en su gastronomía. La floreciente escena gastronómica en Lima atrae a personas de todas partes del mundo para celebrar su excelencia culinaria y los chefs peruanos son reconocidos y venerados tanto a nivel nacional, como internacional. La gastronomía peruana no se limita a la innovación, la fusión, y la revitalización, sino que también abarca la apreciación de la cultura indígena y local, así como los métodos y los ingredientes utilizados. Esta creciente celebridad de los chefs también los sitúa a la vanguardia del cambio en lo que respecta los temas de sustentabilidad y trazabilidad, y hace que este boom gastronómico liderado por chefs en Perú se convierta en una oportunidad para gatillar un cambio.
Con relación a la importancia del manejo sustentable de las pesquerías peruanas y la implementación de la trazabilidad, el Chef Ejecutivo Gustavo Montestruque Bisso ha sido uno de los defensores más activos de Perú. "La [Sustentabilidad y la trazabilidad] son muy importantes Para mí y para nuestro equipo es muy importante, ya que es lo que nos va a generar una calidad y cantidad de producto constante, y es una forma de cuidar nuestros recursos. Los clientes creo que últimamente le toman más importancia, pero siento que aún falta lograr una concientización en ellos."
Listos Para la Innovación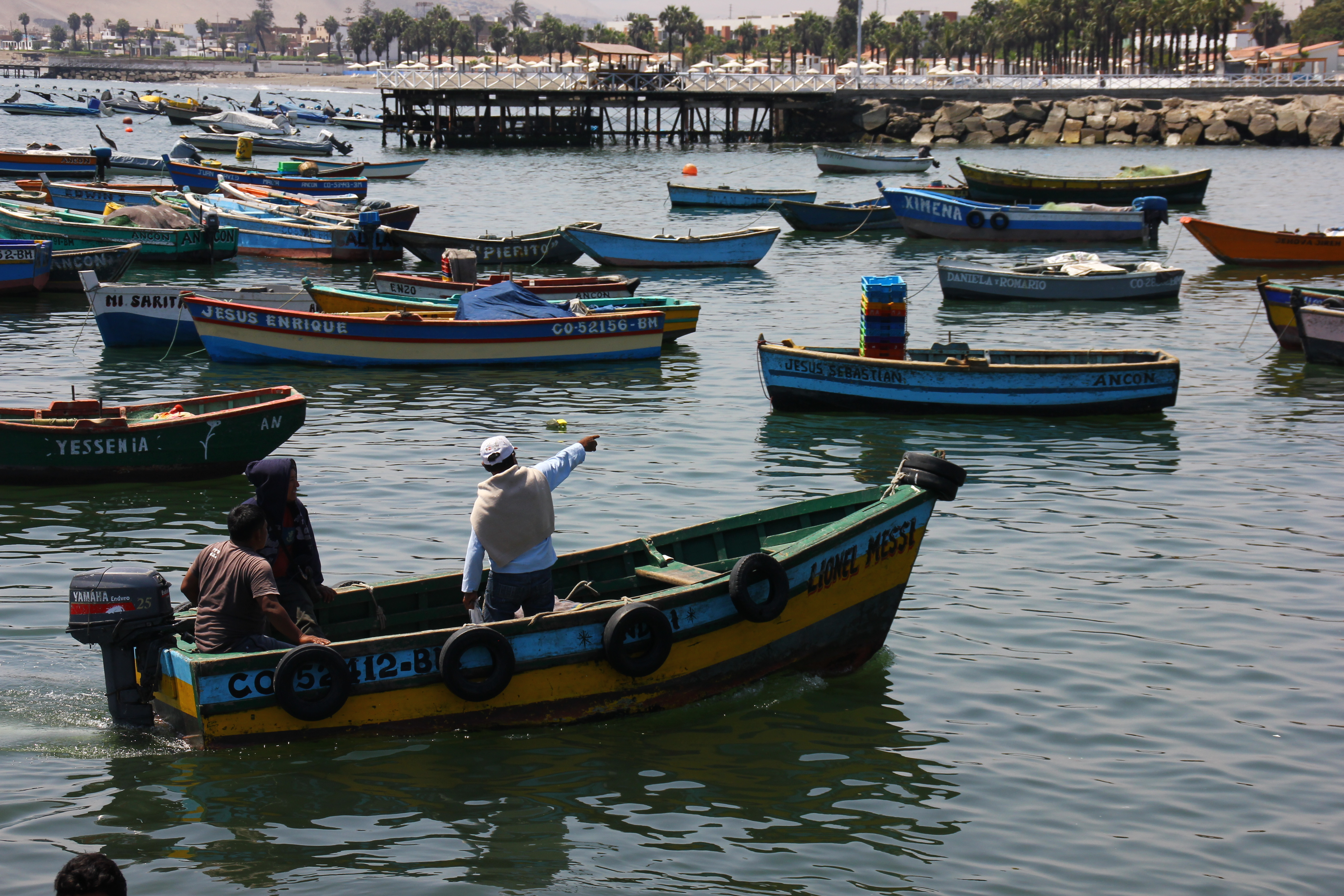 Los inicios de la organización y manejo voluntario en Ancón y las cadenas de abastecimiento complejas, poco claras e ineficientes de Marcona y una cultura de innovación culinaria y excelencia está creando las condiciones para la innovación en las cadenas de abastecimiento de los productos del mar. Los pescadores desean tener mayor control sobre sus productos y se dan cuenta de los beneficios que aporta su nuevo sistema de manejo. En Ancon, por ejemplo, los esfuerzos de TNC que se enfocan en el desarrollo de capacidad han permitido a los buzos ver los beneficios de la gestión de recursos, y los ha motivado para obtener un mayor control sobre sus productos y cadenas de valor. Los chefs están buscando los productos de la mejor calidad y nos preguntamos cuáles serían las oportunidades de comunicación y diferenciación de marcas que podrían proporcionar las cadenas de abastecimiento trazables. También nos llama la atención el hecho que la tilapia y el pez gato de cultivo son productos comunes en la venta minorista, y nos interesa saber más sobre cómo una mayor transparencia y trámites menos complejos podría aumentar la presencia de productos locales en los mercados minoristas.
En Future of Fish, buscamos oportunidades para catalizar y apoyar proyectos incipientes, así como actividades que tengan el potencial de crear un cambio sistémico. Durante el tiempo que permanecimos en terreno, pudimos ver el trabajo emocionante dirigido a crear cadenas de abastecimiento eficientes y transparentes, y que a la vez generen mejores retornos para los pescadores artesanales.
José Fernandez, también conocido como Pepe Cangrejo, es dueño de un restaurante familiar en Ancón que se abastece directamente de los buzos. Mediante una técnica única de extracción de carne, es la única persona en Ancón que produce carne de jaiba extraída, plato principal de este restaurante. En este modelo, Pepe también paga a los buzos precios que son equivalentes o más altos que los que obtendrían vendiendo el producto por su cuenta en el mercado, pero sin los costos de entrada necesarios para llevarlos al mercado.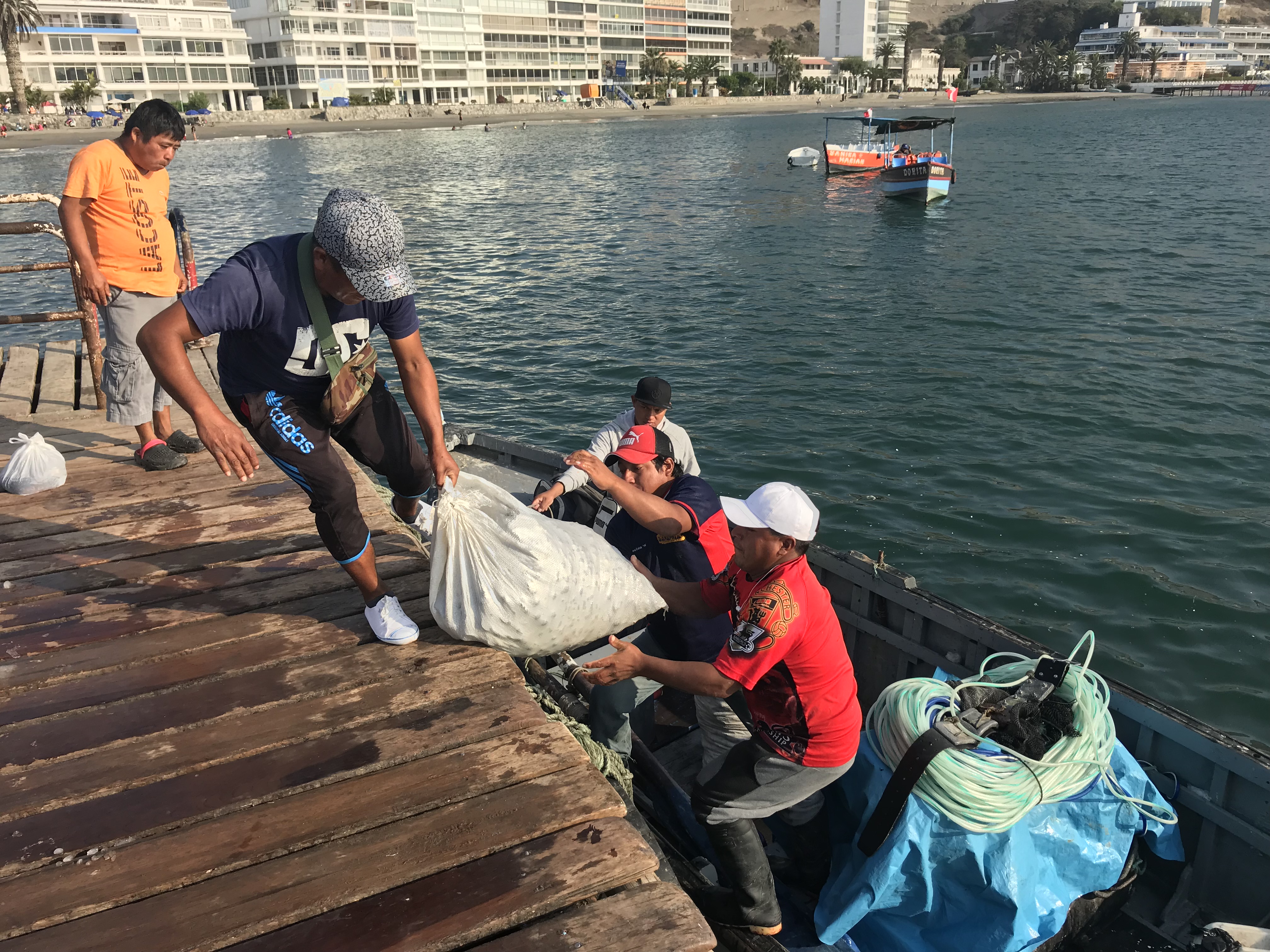 Sustainable Fishery Trade (Comercio Pesquero Sustentable, SFT, su sigla en inglés) es una empresa social dedicada al comercio justo y sustentable en las pesquerías artesanales. Esta empresa está trabajando para acortar la cadena de abastecimiento al conectar los pescadores directamente con los chefs en los restaurantes de gran prestigio en Lima. SFT se encarga de las ventas, el procesamiento, el transporte y la logística del producto de alta calidad, permitiendo a los pescadores concentrarse en lo que ellos consideran su principal cometido, la pesca, y a la vez, generándoles mejores retornos a cambio de sus productos. También ofrecen capacitación en el tema de las prácticas pesqueras responsables, y están avanzando con la trazabilidad de sus cadenas de abastecimiento mediante el uso de una plataforma de trazabilidad digital que adaptaron de la empresa portuguesa, Bitcliq. La orientación hacia los modelos de consumo y los kits de comida preparada son igualmente una nueva oportunidad floreciente en Perú, y SFT ha aprovechado esta iniciativa a través de su programa Fish Box, el que entrega cajas de pescado local directamente a los consumidores.
"A Comer Pescado" es un programa gubernamental que está conectando a pescadores con restaurantes y también está trabajando para lograr evitar la agregación tradicional en el terminal pesquero, promoviendo transacciones directas entre pescadores artesanales y restaurantes, en un esfuerzo por ayudar a estos pescadores a obtener mejores precios para sus productos. Durante nuestra permanencia en terreno, pudimos observar erizos cosechados en Marcona, y a continuación pudimos disfrutar un sushi de erizo y ceviche servido en un restaurante de fusión de comida japonesa llamado "Ache" ubicado en Lima, un restaurante que compra productos directamente de Marcona a través del programa.
TNC ha sido y seguirá siendo un socio clave que tiene valiosa experiencia práctica, especialmente en apoyar el desarrollo de iniciativas locales para el abastecimiento responsable de productos del mar, como TNC ha hecho y continúa haciendo trabajo extenso en las comunidades pesqueras locales (particularmente Ancón).
Durante el siguiente mes estaremos indagando más en estos temas complejos y en las oportunidades existentes para pesquisar de qué manera podemos no sólo crear cadenas de abastecimiento más eficientes para generar mayores retornos, sino también analizar otros temas relacionados, tales como: ¿de qué manera podemos crear cadenas de abastecimiento para generar valor o equilibrar las relaciones de poder? ¿Cómo podemos unificar las cadenas de abastecimiento con un mejor manejo y no crear incentivos perversos para explotar recursos marinos o las comunidades que dependen de ellos? Las pesquerías artesanales de Perú y la revolución culinaria liderada por los chefs parecieran reunir las condiciones necesarias en el sector para la innovación en materia de sustentabilidad pesquera, especialmente si se logra llegar a una definición estándar de lo que significa la sustentabilidad y la trazabilidad para Perú.