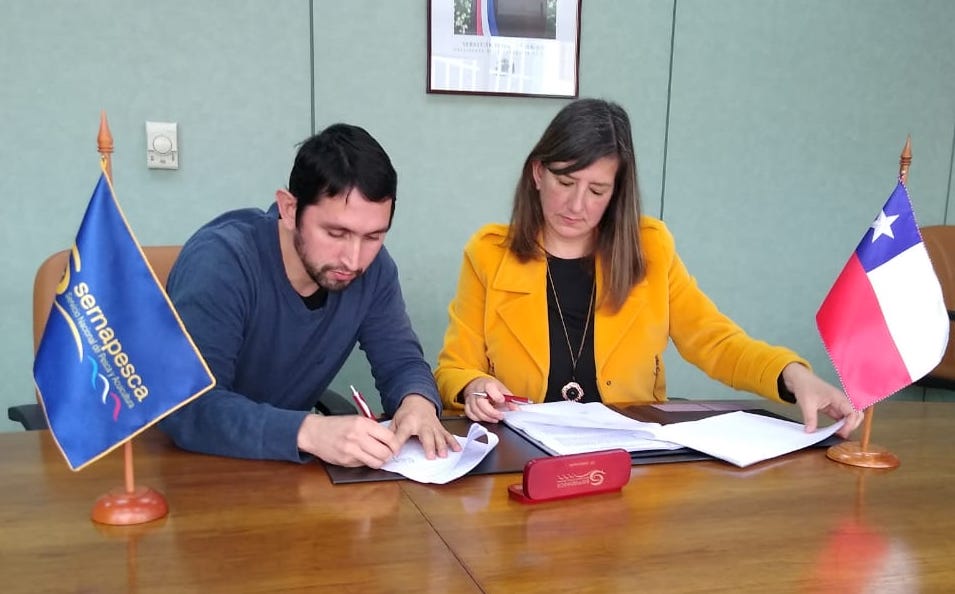 It's been a strong year for fisheries improvement in Chile. As we wrote about in January, the government kicked-off 2019 with passage of a modernization law to strengthen enforcement and transparency across Chile's extensive fisheries and supply chains. As part of this effort, Future of Fish is excited to continue our partnership with SERNAPESCA to improve data systems and build stronger infrastructure for protection and improvement of Chile's fisheries—a partnership that was made official on July 17, 2019, through the signing of a Memorandum of Understanding (MOU).

Why do we think this MOU is such a major step? Read on to find out.
Understanding and improving data within fisheries is a core part of what Future of Fish does, and we know that good, robust, reliable data is essential for fisheries management and enforcement, business intelligence and improvement, and de-risking fisheries investment. But in order for fisheries data to have a positive impact, it needs to be usable and accessible.

As Future of Fish started to work with companies to push for better traceability data systems, we came to realize there's a need to do similar work within governments. Government agencies want (and need) data to help with enforcement and management, but often their efforts are dispersed across different agencies, with regulation, management, taxation, enforcement, and policy taking place in different divisions that can't easily share information and collaborate on effective and efficient data collection, storage, analysis and use.

All of this means that government fisheries data modernization is an essential but complicated need. At Future of FIsh, we're starting to look at how to make it happen.

Chile is an exciting location to dive into government data modernization. With the country's extremely long coastline and thousands of artisanal fisheries, it's impossible for enforcers to be everywhere at once monitoring every fishery. This means technology and better data collection need to be part of the solution. New national level policies that push for better enforcement and transparency have laid the foundation upon which to build robust systems.

This is where Future of Fish comes in. We've been having conversations with SERNAPESCA for over a year now, talking about how an integrated system and improved technology can help to collect and use better data. Of course, technology alone won't solve the problem: we need to get everyone across agencies into the room to discuss needs, and build a strategy around how to create systems and processes that also take advantage of the improved traceability data that industry is creating.

As noted above, while data modernisation is a key component of this new partnership, the caleta focused work we have been progressing this year is also going to be a key area of overlap and collaboration between FoF and SERNAPESCA. New ways to support the commercialisation of legal, traceable, transparent seafood, direct from the caletas to the marketplace, have the potential to increase value and engagement by artisanal fishermen and overall feed into modernised fisheries management and improved social standing of fishing communities.

Despite a change in Chile's government during the course of our engagement with SERNAPESCA, we're thrilled that the conversations have continued. The recently signed MOU signals SERNAPESCA's commitment to working towards data modernization, improved transparency and improving the ability for artisanal fishers to effectively and legally engage in the system. In combination with new enforcement laws, we are excited to help Chile build a fisheries data system that rewards traceability and sustainable practices towards healthy stocks and supports the businesses and livelihoods of fishers in tandem. We are aware that this is a big multi-year and multi stakeholder task but we look forward to working with the great team at SERNAPESCA and the wider government to hopefully make various aspects of this exciting work happen over the coming years.
Avanza la Modernización de Datos: SERNAPESCA y Future of Fish firman un acuerdo
Ha sido un buen año para la mejora de la pesca en Chile. Como escribimos en Enero, el gobierno inició 2019 con la aprobación de una ley de modernización para fortalecer el cumplimiento y la transparencia en las múltiples cadenas de suministro de pesquerías en Chile. Como parte de este esfuerzo, Future of Fish se complace en darle continuidad a nuestra asociación con SERNAPESCA para mejorar los sistemas de datos y construir una infraestructura más sólida para la protección y el mejoramiento de las pesquerías de Chile, una asociación que se oficializó recientemente el 17 de julio de 2019, a través de la firma de un Memorando de Entendimiento (MdE). Una parte importante para la colaboración han sido también las intervenciones que venimos empujando en la cadena de suministro y de comercialización directa de productos del mar, fruto de nuestro trabajo en terreno con caletas merluceras.
Por qué pensamos que este MdE es un gran paso? Lean a continuación para enterarse.
Comprender e intentar mejorar los datos dentro de las pesquerías es una parte fundamental de lo que hace Future of Fish, y sabemos que bueno datos, sólidos y confiables son esenciales para el manejo de las pesquerías, para la inteligencia y el mejoramiento de los negocios, y para la reducción del riesgo de inversión en materia de pesca. Pero para que los datos de pesca tengan un impacto positivo, deben tener un fin y ser accesibles.
A medida que Future of Fish comenzó a trabajar con compañías para promover mejores sistemas de datos de trazabilidad, nos dimos cuenta de que era necesario realizar un trabajo similar dentro de los gobiernos. Las agencias gubernamentales desean (y necesitan) datos para ayudar con el cumplimiento de las regulaciones y el manejo de las pesquerías, pero a menudo sus esfuerzos se encuentran dispersos entre diferentes agencias de gobierno. Temas de manejo, impositivos, aplicación y desarrollo de políticas se llevan a cabo en diferentes divisiones que no pueden compartir información fácilmente y colaborar en la recolección, el almacenamiento, el análisis y el uso efectivo y eficiente de los datos.
Todo esto significa que la "modernización de los datos" pesqueros del gobierno es una necesidad esencial, pero que es una misión complicada. En Future of FIsh, estamos empezando a ver cómo hacer esto posible.
Chile es un lugar emocionante para sumergirse en lo que llamamos "modernización de datos" del gobierno. Con una línea costera extremadamente larga y muchas pesquerías artesanales, es imposible estar en todas partes al mismo tiempo para monitorear las mismas. Esto significa que la tecnología y una mejor recopilación de datos deben ser parte de la solución. Las nuevas políticas a nivel nacional que impulsan una mejor aplicación y transparencia han sentado las bases sobre las cuales se pueden construir sistemas sólidos.
Aquí es donde entra en juego Future of Fish. Hemos estado conversando con SERNAPESCA durante más de un año, hablando sobre cómo un sistema integrado y una tecnología mejorada pueden ayudar a recopilar y utilizar mejores datos. Por supuesto, la tecnología por sí sola no solucionará el problema: tenemos que hacer que todos los miembros de las agencias entren en la sala para analizar las necesidades y desarrollar una estrategia sobre cómo crear sistemas y procesos que también aprovechen los datos mejorados de trazabilidad que está creando el sector.
Además de la modernización de datos dentro del gobierno, el trabajo centrado en las caletas que hemos estado haciendo durante los pasados 12 meses también será un área clave de superposición y colaboración entre FoF y SERNAPESCA. Las nuevas formas de apoyar la comercialización de productos del mar, legales, trazables, transparentes, directos de las caletas a los mercados en las ciudades, tienen el potencial de aumentar el valor y el compromiso de los pescadores artesanales. Estos datos también pueden contribuir a la gestión de la pesca modernizada y robustecer el rol social de las comunidades representadas con la pesca artesanal.
Desde que trabajamos con SERNAPESCA hubo un cambio de administración, pero ello no implicó que las conversaciones se interrumpieran. El MdE recientemente firmado señala el compromiso de SERNAPESCA de trabajar en la modernización de los datos, mejorar la transparencia y mejorar la capacidad de los pescadores artesanales para participar de manera responsable, saludable y legal en el sistema. En combinación con las nuevas leyes de cumplimiento, nos complace ayudar a Chile a construir un sistema de datos de pesca que recompense la trazabilidad y las prácticas sostenibles hacia stocks saludables y que respalde el negocios como medio de subsistencia de los pescadores en su conjunto. Somos conscientes de que esta es una gran tarea interanual y que involucra múltiples partes interesadas, pero esperamos trabajar con el gran equipo de SERNAPESCA y el gobierno en general para hacer realidad varios aspectos de este emocionante trabajo en los próximos años.




Tags