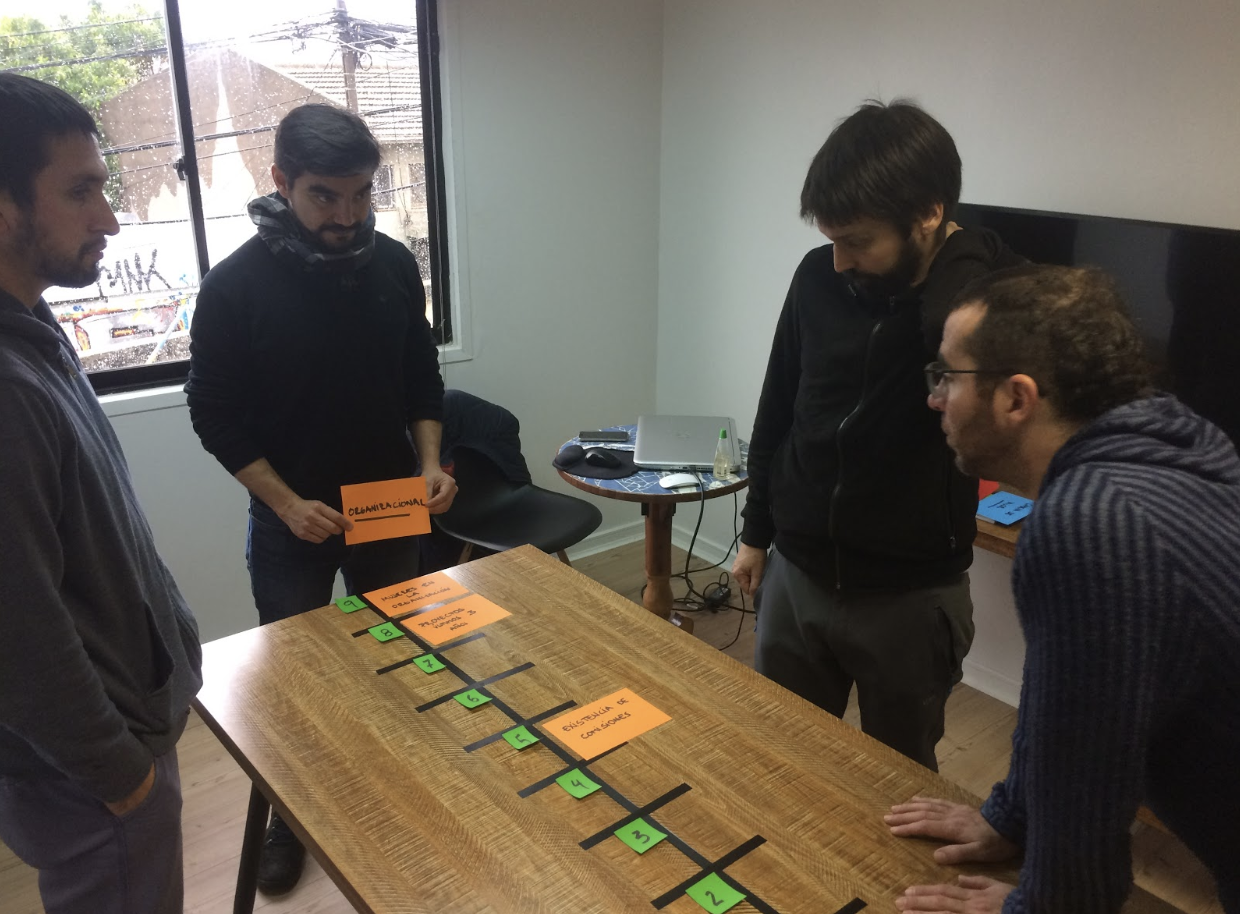 Author: Momo Kochen
Versión en Español incluída
Our last installment from Chile told you about the intricate way we worked to choose the caletas with whom we would partner during the coming months of what we term the "Design and Demo" phase of Future of Fish's Fishery Development Model. We started this work back in May of 2017, and we've met with so many amazing caletas, but we've had the difficult task of narrowing it down to four to work with at this current time. We worked hard at this selection process so indeed we felt excited to start the work. Over the upcoming six to eight months we will undergo a process of co-design at each site to develop ideas for caleta development--creating implementation plans for these projects, developing business plans, and all while building a network of funders (we are hoping for a mix of philanthropic granting, economic development grants and potentially private capital where needed) to fund these projects for the community groups of artisanal fishers. So, having chosen our caletas we trekked to the selected communities to tell them what we thought was the good news… to Coquimbo (in the Homonymous region), Papudo and El Quisco (Valparaíso Region) and Duao (Maule region).
Caletas we chose but who didn't choose us…..
Of the four caletas with whom we hoped to build partnerships and engage on the previously explained process, two were very excited. Both Duao and El Quisco signed up to the process, and were eager about the prospect of the work and have welcomed both ECOS and FoF into their communities to build these collaborative approaches. The other two did not meet us with the same calibre of enthusiasm. Papudo, in the Valparaiso region is an already very progressive caleta; they have strong leadership, conduct very democratic decision making processes and have been successful recipients and implementers of some impressive grants and projects. Their leadership decided that they did not need support at this time and decided not to accept our suggestion of partnership. Coquimbo, a very large city based caleta in the fourth region, explained to us that they have been stung by previous projects with no or little benefit coming from their effort to engage. We have to say that our egos were a little bruised but stepping back and looking at the situation we can see why these caletas have made their decision. We respect those decisions and hope that we can either work with them again in the future or that indeed they continue their work independently and successfully for their own caleta development.
Onward to find the next two caletas in line, according to the selection procedures: The sorting hat has chosen (a Harry Potter reference for those of you more into fish than wizardry) Jaiberos de San Antonio (one of six syndicates in San Antonio cove and focused predominantly on crab fisheries) and Portales, both in the Valparaiso region.
We approached both caletas to discuss the possibilities of collaboration and added San Antonio to our list of committed partners. Unfortunately, Portales was interested, but decided not to partake in the project at this time. They are currently going through an administration change and thought it better not to engage due to this. Third time's a charm! Next in line from the selection process was a caleta called San Pedro Concón. We approached them and they were excited to participate. With that we have reached our desired four partner caletas, El Quisco, Duao, Jaiberos de San Antonio and San Pedro Concón. As you can see, it was no easy task!
The process of getting the caletas signed up and having an understanding of where this journey is going to take them is what we have termed 'co-design round one', but in simple language it is relationship building and partnership development.
As an aside, I do think it's important to note here that this process has been really important for us here at Future of Fish. We realised a few things. Namely, that each of these caletas has a history, some of them include stories of projects in the past where partner organisations promised the world and didn't deliver, or projects created internal syndicate corruption and issues which weakened them for long periods. Not all the histories have negative stories but unfortunately those are the ones that float to the surface and can create mistrust in processes like these. This may explain some of the hesitancy not to engage by some of the groups. Additionally, this process has also required us to be more humble. Though these projects and collaboration opportunities seem like a no brainer to us, we have to contend with the fact that these caletas may not find us mutually appealing as they may feel what we offer is really not what they need. Our wings have been clipped a little, but all the same we have four brilliant partnerships on the horizon with four interested, committed and enthusiastic partners; a much more inviting concept than moving this process forward with syndicates who do not see the benefit of the approach or have the willingness to engage. It again points toward the absolute priority of focusing on relationships and trust building for making this work a success!
Taking it one step further: Co-design round two
The second part of the co-design approach utilized a process developed and facilitated by our partners ECOS. It is a methodology framed within the Ecosystem Approach to Fisheries Management. ECOS and FoF took to each of the initial three caletas, El Quisco, San Antonio and Duao (the process will also be happening in San Pedro Concón but is running a little later than planned) and workshopped through a brainstorming process which aimed to facilitate the fishers from these syndicates to map their supply chains, identify critical points/barriers within these existing supply chains and then to think about the future. By thinking about the future they were required to point out solutions to the current issues and develop ideas which could support their caleta development. We motivated the fishers to think about the potential ideas within categories of opportunity areas which we had previously identified from our research phase.
These five opportunity areas were highlighted as arenas where the hake fishery system is ripe for development:
Shorten and Align the Supply Chain
Diversify Fishery, Caleta, and Syndicate
Drive New Branding and Story
Create Safety Nets to Reduce Effort
Amplify and Coordinate Innovation Across the System
This was all done on a whiteboard utilizing magnetized cards with stakeholders names and supply chain processes and inputs, which were moved around the board as we built them into stories. In all three caletas the conversations were rich, the input enthusiastic and some really good ideas emerged, including, increasing mesh sizes for creating a higher quality and higher value product, shortening the supply chain in order to increase the value which exists for each player, and branding products--especially those that have a cultural story to tell behind them. All in all the process was a very positive one, instigating enthusiasm and engagement for the steps ahead.
These ideas will now become the basis of the next stage of co-design, when experienced outside parties, people who may have entrepreneurial skills, representatives from other supply chain nodes, and experts of various skill sets will descend upon the caletas for co-design round three. This will happen in the coming weeks and the tension and excitement is building. Will the people turn up? Will the ideas which the fishers have initially brainstormed be built upon and made come to life? Have we thought of all the correct people and process to be in the room to create the atmosphere and conversation we envision to turn these initial ideas into great implementable ideas?
ECOS, Claudio and ourselves at Future of Fish are deep in planning as this blog goes to post. You'll hear from us again, directly from the field, as co-design three is happening, so hopefully we'll be able to to answer yes to all of the above questions. Keep your fingers crossed for us, and more importantly for the fishers--that we collaboratively come up with some exciting solutions for their caletas and for the hake system in general.
Selecciónando de Caletas para Co-Diseño: Parte 2
En nuestra última entrega desde Chile les contamos acerca de la manera complicada en la que trabajamos para escoger las caletas con las que colaboraríamos durante los siguientes meses de lo que denominamos la fase de "Diseño y Demonstración" del Modelo de Desarrollo de Pesquerías de Future of Fish. Iniciamos este trabajo en mayo del año 2017, y nos reunimos con muchas caletas impresionantes, pero tuvimos la difícil tarea de escoger a cuatro de ellas, con las que colaboraremos en esta ocasión. Trabajamos arduamente en este proceso de selección y estábamos muy entusiasmados de comenzar la actividad. Durante los siguientes seis a ocho meses realizaremos un proceso de co-diseño en cada sitio para generar ideas que favorezcan el desarrollo de las caletas – creando planes de implementación para estos proyectos, desarrollando planes de negocios, y al mismo tiempo construyendo una red de financiamiento (esperamos contar con una mezcla de donaciones filantrópicas, subsidios de desarrollo económico y potencialmente capital privado, cuando sea necesario) para financiar estos proyectos que beneficiarán a los grupos comunitarios de pescadores artesanales. De esta manera,habiendo seleccionado a nuestras caletas, nos encaminamos hacia las comunidades para contarles lo que para nosotros eran buenas noticias … a Coquimbo (en la región homónima), Papudo y El Quisco (Región de Valparaíso) y Duao (Región del Maule).
Caletas que seleccionamos pero que no nos escogieron …..
De las cuatro caletas con las que esperábamos establecer alianzas y participar en el proceso detallado anteriormente, dos se mostraron muy entusiasmadas. Tanto Duao, como El Quisco se enrolaron en el proceso y estaban muy ansiosos por conocer las perspectivas del trabajo y han recibido tanto a ECOS, como a FoF en sus comunidades para desarrollar estos enfoques de colaboración. Las otras dos no se reunieron con nosotros con el mismo nivel de entusiasmo. Papudo, en la región de Valparaiso, es una caleta que ya es muy progresiva; cuenta con un fuerte liderazgo, realizan procesos de toma de decisiones muy democráticos y han sido beneficiarios e implementadores exitosos de algunos subsidios y proyectos. Sus dirigentes decidieron que no necesitaban apoyo en este momento y por lo tanto no aceptaron nuestra sugerencia de colaboración. En Coquimbo, una caleta emplazada en una ciudad muy grande en la cuarta región, nos explicaron que se habían sentido decepcionados como resultado de varios proyectos anteriores que trajeron poco o ningún beneficio a pesar de sus esfuerzos por participar. Tenemos que reconocer que nuestros egos se vieron un poco afectados, pero al dar un paso hacia el costado y analizar la situación podemos entender las razones por las cuales estas caletas tomaron su decisión. Respetamos estas decisiones y esperamos que podamos trabajar con ellos en el futuro o que puedan ciertamente continuar su trabajo en forma independiente y exitosa a favor del desarrollo de su propia caleta.
Seguimos hacia adelante para encontrarnos con las dos siguientes caletas que estaban en la lista, de acuerdo con el proceso de selección: El sombrero seleccionador ha escogido (una referencia a Harry Potter para aquellos que saben más de peces que de hechicería) a los Jaiberos de San Antonio (uno de los seis sindicatos en la caleta de San Antonio dedicados principalmente a la pesquería de la Jaiba) y Portales, ambas en la Región de Valparaíso.
Nos acercamos a ambas caletas para discutir las posibilidades de colaboración y agregamos a San Antonio a nuestra lista de colaboradores comprometidos. Desafortunadamente, Portales estaba interesada, pero decidió no formar parte del proyecto en este momento. Actualmente están atravesando un cambio de administración y por lo tanto pensaron que sería mejor no participar. ¡La tercera es la vencida! La siguiente en la lista del proceso de selección era la caleta San Pedro de Concón. Nos acercamos a ellos y se mostraron muy entusiasmados en participar. Con la suma de esta última hemos alcanzado nuestras cuatro caletas asociadas, El Quisco, Duao, los Jaiberos de San Antonio y San Pedro de Concón. ¡Como pueden ver no fue una tarea fácil!
Como punto aparte, creo que es importante hacer notar que este proceso ha sido realmente importante para nosotros en Future of Fish. Nos hemos dado cuenta de un par de cosas. Principalmente, que cada una de estas caletas tiene una historia, algunas incluyen historias de proyectos en el pasado en los que las organizaciones asociadas prometieron el mundo y no cumplieron, o proyectos que crearon corrupción al interior del sindicato y otros problemas que los debilitó durante un largo periodo de tiempo. No todas las historias están relacionadas con eventos negativos, pero desafortunadamente éstos son los que flotan a la superficie y pueden crear desconfianza en procesos como estos.Esto podría explicar la reticencia que algunos grupos manifiestan al momento de ser invitados a participar. Además, este proceso también nos ha obligado a ser más humildes. A pesar que el beneficio de estos proyectos y las oportunidades de colaboración resultan evidentes para nosotros, es necesario reconocer que posiblemente estas caletas no encuentren que nuestra propuesta sea atractiva porque sienten que nuestra oferta no es lo que ellos necesitan. Nuestras alas fueron cortadas un poco, pero al mismo tiempo hemos formado cuatro colaboraciones geniales que se concretarán en el futuro inmediato, con socios comprometidos y entusiasmados; un concepto mucho más atractivo que llevar adelante un proceso con sindicatos que no ven el beneficio del enfoque o que no tienen la disposición de participar. ¡Nuevamente apunta a la prioridad absoluta de enfocarse en las relaciones y desarrollar confianzas para que este trabajo sea un éxito!
Dando un paso hacia adelante: Co-diseño round dos
La segunda parte del enfoque de co-diseño sigue un proceso desarrollado y facilitado por nuestros colaboradores de ECOS. Es una metodología enmarcada dentro del Enfoque Ecosistémico frente al Manejo de Pesquerías. ECOS y FoF se dirigieron a las tres caletas escogidas, El Quisco, San Antonio y Duao (el proceso también se realizará en San Pedro Concón pero un poco más tarde de lo planificado) y organizamos un taller para generar una lluvia de ideas para ayudar a los pescadores de estos sindicatos a elaborar un mapa de sus cadenas de abastecimiento, identificar los puntos críticos/las barreras dentro de las cadenas de abastecimiento existentes y luego pensar acerca del futuro. Al concentrarse en el futuro debieron señalar soluciones para los problemas que enfrentan en la actualidad y proponer ideas para apoyar el desarrollo de su caleta. Incentivamos a los pescadores para pensar acerca de las ideas potenciales dentro de las categorías de las áreas de oportunidad que habíamos definido anteriormente en nuestra fase de investigación.
Estas cinco áreas de oportunidad fueron destacadas como ámbitos en los que el sistema de pesquerías de la merluza está preparado para el desarrollo:
Acortar y alinear la cadena de abastecimiento
Diversificar la Pesquería, la caleta y el sindicato
Direccionar la creación de nuevas historias y marcas
Crear Redes de Seguridad para Reducir el Esfuerzo
Ampliar y coordinar la innovación a través del sistema
Todo esto se realizó sobre una pizarra utilizando tarjetas magnetizadas con los nombres de los interesados, los procesos y las partes de la cadena de abastecimiento, que se movieron alrededor de la pizarra en la medida que fuimos incorporamos a cada uno en la construcción de historias. Las conversaciones que sostuvimos en las tres caletas fueron enriquecedoras, surgieron contribuciones entusiastas y algunas muy buenas ideas, incluyendo aumentar el tamaño de las redes para crear un producto de mayor calidad y valor, acortar la cadena de abastecimiento con el fin de aumentar el valor que recibe cada uno de los actores, y crear marcas para los productos—especialmente aquellos que tienen una historia cultural por detrás. En su conjunto, el proceso fue muy positivo, despertó el entusiasmo de los participantes y su compromiso con los siguientes pasos.
Estas ideas ahora formarán la base de la siguiente etapa de co-diseño, con la participación de partes externas, personas que pueden contar con habilidades empresariales, representantes de otros nodos de la cadena de abastecimiento y expertoscon distintas habilidades aterrizarán en las caletas para formar parte del co-diseño round tres. Esto sucederá en las próximas semanas y está aumentando la tensión y el entusiasmo. ¿Aparecerán las personas? ¿Se desarrollarán las ideas iniciales que identificaron los pescadores en su lluvia de ideas para convertirlas en una realidad? ¿Hemos pensado en todas las personas y en los procesos correctos para reunirlos en la sala y crear la atmósfera y la conversación que vislumbramos para convertir estas ideas iniciales en grandes ideas implementables?
ECOS, Claudio y nosotros en Future of Fish estamos sumergidos en la planificación mientras este blog se envía para publicar. Recibirán noticias nuestras muy pronto directamente desde el terreno, mientras está sucediendo el co-diseño, así es que esperemos que seamos capaces de responder afirmativamente a todas las preguntas anteriores. Mantengan los dedos cruzados por nosotros y más importante aún para los pescadores –para que podamos encontrar fantásticas soluciones para sus caletas y para el sistema de la merluza en general.