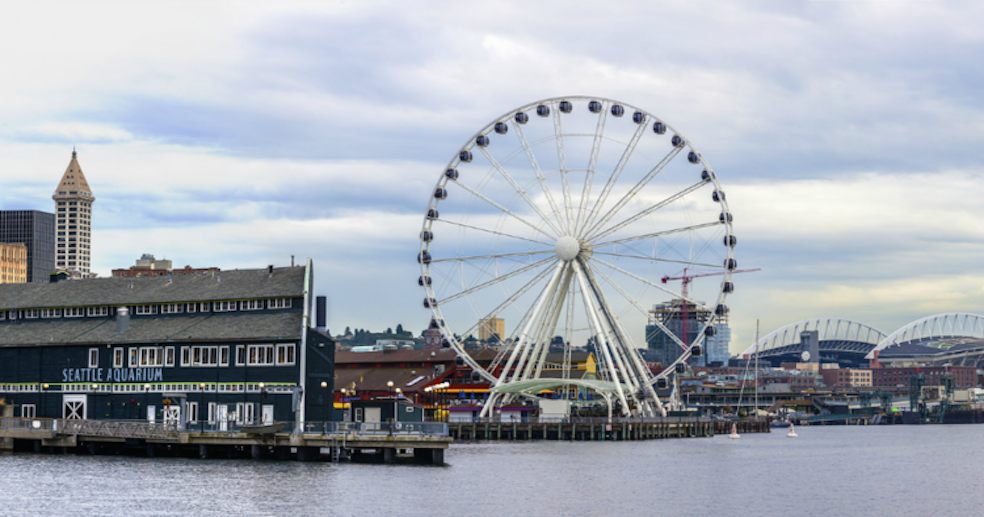 Hot on the heels of last month's successful Sustainable Seafood Week in NYC, our team is hitting the road and heading to the Pacific Northwest. Co-produced by Sustainable Seafood Week founder Village Fishmonger and Flip Labs, Sustainable Seafood Week Seattle begins Sunday August 2 and includes a full week of exciting events showcasing how this city is at the forefront of a powerful movement. We've listed the highlights below, but for a full download of what's planned, please visit our website.
Opening Gala Tuesday August 4, 6:30-10:00 PM, Seattle Aquarium
Join us at the Seattle Aquarium on Tuesday August 4 for a unique opportunity to meet Seattle's culinary celebrities and dine on their delicious sustainable seafood creations. Located on Pier 59 at the edge of Puget Sound's Elliott Bay, the Seattle Aquarium is the region's premier resource for hands-on marine experiences and one of the most extraordinary spaces in the city. The Gala will feature amazing seafood prepared by chefs and leaders in the local sustainability movement, including Roy Breiman of Cedarbrook Lodge, Jason Wilson of Crush and Miller's Guild, Seth Caswell from Dunbar Room and Hotel Sorrento, and Betsy Davidson from the Seattle Aquarium. Enjoy salmon flights prepared by Cape Cleare Fishery, and savor oysters on the half shell from Taylor Shellfish. Get insights into perfect salmon grilling techniques, pick up cooking tips from local "Good Fish" author Becky Selengut, and sip summertime cocktails out on the deck. Space is limited. Purchase tickets here.
Seattle Industry Lab Wednesday August 5, 8:30 AM–5:00 PM, Ray's Boathouse
Sustainable Seafood Week Seattle Industry Lab on Wednesday August 5 hosted by Ray's Boathouse will address topics critical for industry professionals. Whether you're a leader in the field or just looking for an overview of the issues, Future of Fish-led interactive sessions provide knowledge that can be applied right away. We welcome participants who work in the seafood industry, food business, ocean conservation, civic health and other relevant areas. See here for more details and to request a free ticket.
Smart Catch Dining Out All week, city-wide
Throughout Sustainable Seafood Week Seattle, over 60 top city restaurants participating in the new Smart Catch restaurant program will delight diners with special sustainable seafood menu items. Check out the full list of restaurants and make a reservation with our partner, Open Table.
Sustainable Seafood Blue Pop Up Tents
Find us at our Sustainable Seafood Blue Pop Up Tent for a fun Fishy photo booth and engaging seafood and ocean-related activities that the whole family can enjoy! We'll be at Waterfront Park Sunday-Tuesday, and Thursday from 11:00 AM–3:00 PM, and at the South Lake Union Whole Foods Market on Friday from 11:00 AM–3:00 PM. Get the full schedule here.
For those of you who can't make it up to the Pacific Northwest, Sustainable Seafood Week will be descending upon San Francisco September 13-20, 2015.
Photo Credit: Nick Pelletier
Tags