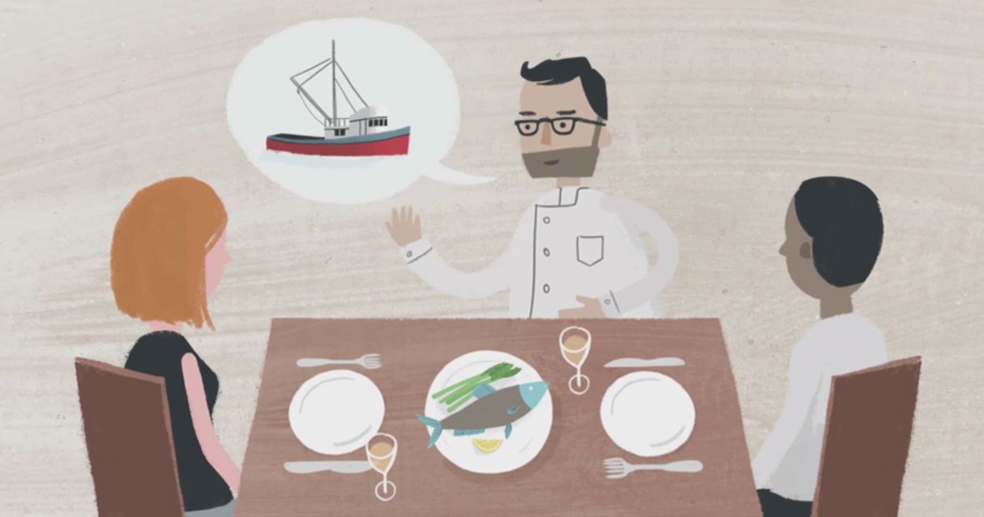 As seafood eaters and ocean lovers, we care about where our fish comes from, how it's caught, and the journey it took from the ocean to our plates. And when we don't know, we ask. We ask because we care about fish quality, we care about freshness, and we care about the longevity of our local fish stocks. We believe in the power of story to encourage supply chain transparency and to bring us one step closer to ending global overfishing. A Storied Fish is a traceable fish and manifests itself in tales of chef creativity, community involvement, and innovative marketing.
As we celebrate the arrival of Sustainable Seafood Week in San Francisco, we've decided to share some recent highlights from the world of Storied Fish and a sneak preview of what's happening this week in The City.
In the Chesapeake Bay, The Wide Net Project identified a storytelling opportunity around the invasive blue catfish. After this nonnative species began to alter the bay's delicate ecosystem, The Monterey Bay Aquarium recommended the fish as a "best choice" in seafood and encouraged consumers to preferentially purchase the blue catfish. The Wide Net Project encourages consumption of the fish by telling the story of the problems it causes, its potential as a delicious meal, and adds a bonus impact of feeding the hungry in local communities.
Meanwhile, The South African Sustainable Seafood Alliance (SASSI) works with The World Wildlife Fund to develop tools to help guide consumers to sustainable seafood choices, they feature "Trailblazer Chefs" on their website and they work with fisheries, retailers, and other seafood stakeholders to promote supply chain transparency.
The Mintel Group, a London-based food and beverage research group, published a report showing that younger generations look for food labels "free from" foods like hormones and antibiotics, yet another encouraging case for fish + story as a way to draw consumers.
This week we're bringing Storied Fish to life in San Francisco for our third Sustainable Seafood Week event series. From September 13-20 enjoy events celebrating San Francisco's maritime history, the local fishing and restaurant community, and the legacy of sustainable food and drink in the City by the Bay.
On Tuesday, Industry Lab will convene a group of leading scientists, advocates, food service professionals, distributors and chefs for discussions around local, sustainable seafood. There's still space to join the conversation; register your interest here.
Boat lovers and history buffs should join us on Wednesday for our Gala and Marketplace on board the historic Ferry Boat Eureka. Enjoy local, sustainable seafood from renowned Bay area chefs, and local beer and wine from the best of the area.
If you can't make it to a scheduled event but would still like to participate, check out our Dine-Out Program in collaboration with OpenTable. Top restaurants in San Francisco will highlight sustainable seafood dishes all week long, and local seafood providers will sell sustainable options for at-home preparation as well.
We're holding events across the city every night of the week, check out the full schedule of events here.
Whether you're joining us for events in San Francisco, or watching from afar, check out our Storied Fish video to learn a bit more about seafood's complex supply chains and to understand your part in this ongoing ocean narrative.