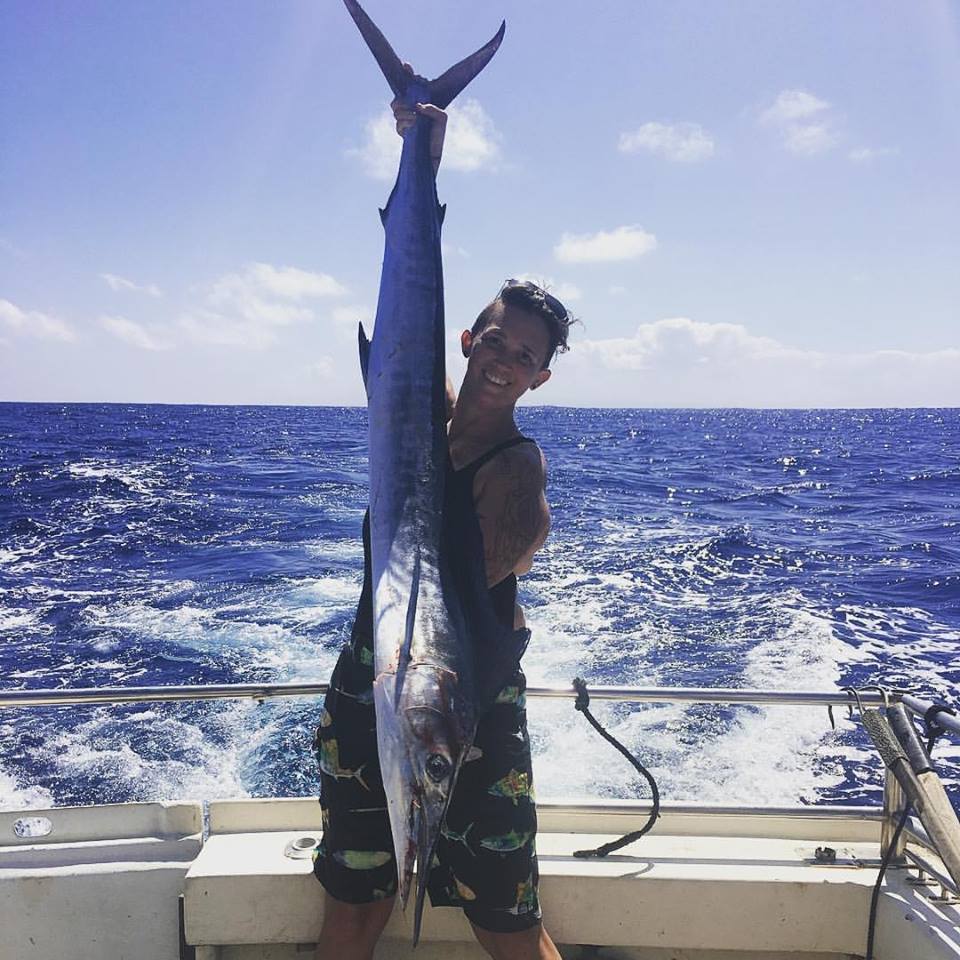 How a lifelong love of fishing became a mission to save the ocean by eating its inhabitants.
On a recent Thursday night in San Francisco, a group of guests gathered at Fine & Rare for a dinner to celebrate "little" fish. This Seafood Stories dinner featured chef Douglas Bernstein, executive chef at Sausalito, California's Fish, a restaurant dedicated to sustainable seafood and storytelling. Over Fort Bragg Sea Urchin, San Francisco Bay Anchovies, and Oregon Butter Clam Ceviche, guests learned the importance of eating lower on the food chain by enjoying the smaller fish.
"The dinner table is a powerful place to tell a story and to unite people over a meal that tastes delicious. Eating a meal like this also helps them understand how they can protect the ocean through their seafood choices." -- Crystal Sanders, Co-Founder of Seafood Stories and Founder of Fish Revolution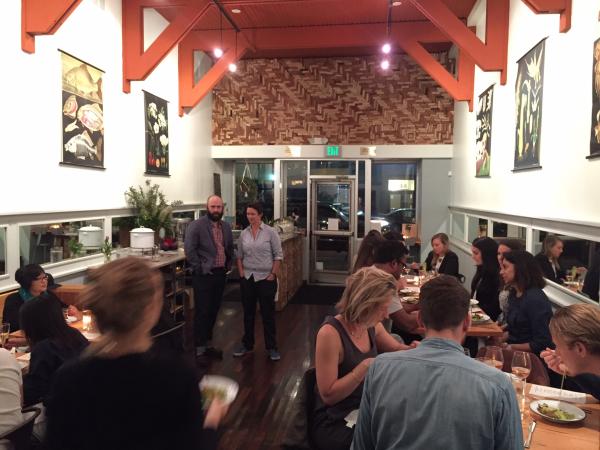 Co-Founders Crystal and Fine and Rare's Ted Wilson hitting their stride in their 8th Seafood Stories dinner this year. The pair came up with the idea last December and since then has celebrated local, sustainable seafood at Ted's restaurant space in San Francisco and in a few locations in Hawaii.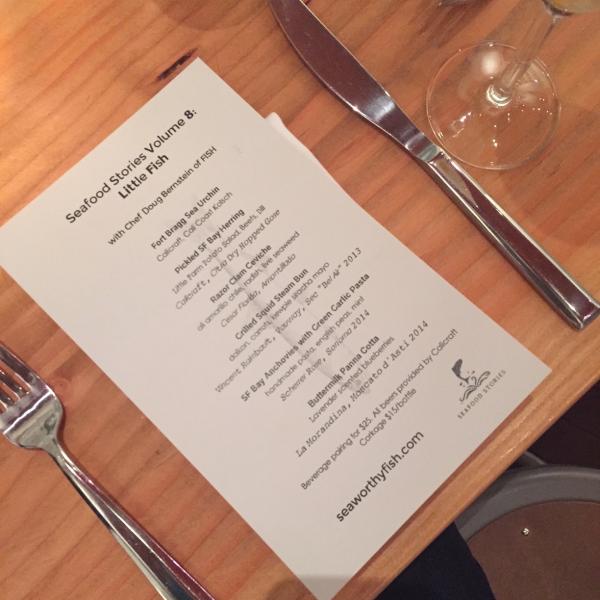 While studying at Texas A&M University-Corpus Christi, Crystal discovered that her love of fish and working in and on the water could become a career. During college she started conducting field research for Texas Parks and Wildlife, then collecting fishing effort and population data for NOAA's National Marine Fisheries Service. As a government employee she felt the strained relationship between regulators and those they regulated. Fishermen would yell at her on the docks and some even refused to work with her.

"I would tell them, 'Look, I'm a fisherman too; let's just go out fishing. I won't collect any data,'" she said. "I saw this huge disconnect between the federal government setting up rules here, and asking people to follow them without explanation. And the fishermen didn't really understand how the science and process of fisheries management worked, how they could be involved, or what they could do more of. They were not feeling heard." Crystal's ability to listen and to build trust at the docks made a difference. The ports where she worked saw a 95% rise in reporting and many of the fishermen who she worked with reported their catches for the very first time. But fish stocks kept dropping.
"I saw the community that I grew up in falling apart. The harbor was damaged, the docks were falling into the water, and nobody was repairing them. Today, there is nowhere for commercial fishing boats to dock. The shrimping industry is almost completely collapsed [in Aransas Pass] and the majority of shrimp coming in is exported. Locals aren't buying the local seafood."
"All of these fish were disappearing because we were eating them," she said. "So if I started talking to people about their seafood choices, maybe that would be the way to save fish and fishing communities."

After visiting friends in San Francisco, Crystal realized that the San Francisco Bay Area was a good place to work closer to like-minded people in order to learn enough to bring change to Texas. She moved to San Francisco on New Year's Day, 2008 and began working in environmental education while learning more about the science of seafood sustainability. She started working with chefs through the Bay Area Seafood Watch Business Partner Program, then ran a sustainable seafood wholesale company that supplied Bay Area chefs with seafood directly from fishermen.

In 2014 she realized that her true passion and talent were in educating and connecting chefs to consumers. She was ready to devote all her time to Fish Revolution, a nonprofit that assists restaurants and businesses with incorporating seafood sustainability into their business models. Crystal and Ted founded Seafood Stories to help connect fishermen and chefs directly to diners, and to share the seafood story across the entire supply chain.
"I want to share my love for the fishes in the sea with everyone—an easy task when they are deliciously presented on a plate by one of the many incredible chefs I am fortunate to work with," she said.
Back at my table, Crystal pours some Calicraft beer to pair with a Pickled San Francisco Bay Herring. The topic turns to fishing. "Can I go out fishing in the bay? Who should I call to try this myself?" One guest asks. "What's in season? What about buying frozen fish?" Crystal walks from table to table, advising dinner guests on where and what to buy, connecting them with resources, and sharing tips for finding great seafood. As dinner guests walk out the door, they take with them a new curiosity for the murky world of seafood. And Crystal goes back to the boats.

To experience Seafood Stories for yourself, visit seaworthyfish.com. Each dinner highlights the story of a fish species, fishermen, chef, or hot topic in sustainability. The next San Francisco dinner, "What the Fish?!" will be held at Fine and Rare in San Francisco on Thursday, July 14. Tickets are $65 and all proceeds benefit Fish Revolution.

Note from Future of Fish: We can't wait to work more closely with Crystal as we develop a Storied Fish Pod. With Crystal at the helm we will develop insights and tools to help supply chain companies to increase sales by appealing to customer value sets. Look for more updates on Storied Fish in the coming weeks!


Tips from Crystal:
Get to know the people who catch and cook your seafood:

Ask your fishmonger where you fish is coming from and if they have locally caught fish. When you buy from businesses that sell local fish you support your local fishing community and help maintain local economies.

Get to know your chef and support restaurants that value local and sustainable sourcing. Chefs tell us stories through the food they serve. When you get to know your chef, you also get to know your local food system.

Ask for your seafood story. The simple act of asking allows chefs, retail outlets, and your friends know that this information matters. Knowing whether your fish is wild or farmed, where it comes from, and how it was caught/farmed are all helpful in shifting the supply chain to a more transparent system which in turn helps reduce fraud and illegal fishing.

Eat seasonally if possible. Just like fruits and vegetables, fish have seasons. Eating in season keeps variety in your diet and offers a deeper connection with your food supply.