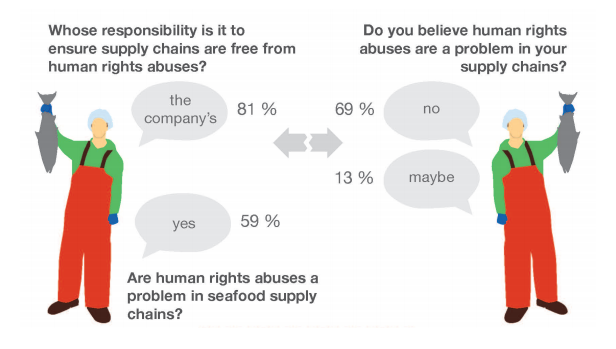 Graphic taken from FishWise's report entitled Trafficked II: An Updated Summary of Human Rights Abuses in the Seafood Industry
Sometimes, what you don't see is what matters. Walking the floor of Seafood Expo North America, the fabulous displays of fish from around the world are pure eye candy for any seafood lover. What those colorful fillets don't reveal, however, are the human rights abuses that currently mar the global seafood trade.
Co-led by Steve Trent with the Environmental Justice Foundation and Myriah Boyle, Program Director at FishWise, the Preventing Human Rights Abuses in Seafood Supply Chains session on the first day of the show focused on two new reports that reveal different aspects of human trafficking and abuse throughout the seafood industry: EJF's Sold to the Sea: Human Trafficking in Thailand's Fishing Industry and FishWise's Trafficked II: An Updated Summary of Human Rights Abuses in the Seafood Supply Chain.
Sold to the Sea reveals horrific stories of migrant workers in Thailand, bought and sold into lives at sea where they face treacherous conditions and are forced to work without pay. This short video provides a summary.
Thailand is the world's third largest exporter of seafood and processed seafood products. They are often the number one supplier of US shrimp. If you live in the US and indulge in that most popular crustacean, it's likely from Thailand, and according Trent, it's likely that shrimp came with a side of slavery. But, the situation is pervasive, occurring across sectors, from fishers to processors and in different species. It is not just shrimp.
"I've traveled all over the world," said Trent, introducing the study. "I've worked on many issues, been in the field many times. I have never seen this kind of abuse. We are talking execution-style murders on a regular basis. It is extreme violence."
Widespread human trafficking and abuse is allowed to continue, in part, because the supply chain remains a black box, even to those within the industry. Boyle shared a handout based on the FishWise report that noted most industry players are aware that human rights abuse is a problem in the industry, but almost all of them believed it did not happen in their company's supply chain.
So, how do we address these atrocities? When Trent and Boyle opened the floor for discussion, one attendee asked if massive global boycotts were the answer. Trent quickly responded "no." Boycotts were too "blunt" an instrument. According to him, there are players who are genuinely trying to do the right thing, to see into their own supply chains and adjust course to avoid connection with any businesses associated with such practices. His organization is working to support those companies, and help squeeze out the ones who are not operating with the same integrity. The trouble is, there is currently no way for some buyers to get the kind of verified data they need to enact changes.
At Future of Fish, we've been working with entrepreneurs in the seafood supply chain to help them develop the technologies and distribution models that will allow them to tie the full story to their fish. This Storied Fish provides greater value to buyers, be they retailers or consumers, who want or need to verify information about their purchases. The value of Storied Fish can then translate into price premiums for distributors and fishers. In other words, Storied Fish + verifiable data creates the market incentives to fish more responsibly.
You can't hide slavery in a transparent system. Traceability technology shines a bright light into the black box of the seafood supply chain, helping to identify not only illegally caught fish, but also human rights violations. As Boyle noted at the end of the session, "Environmental crimes and human rights violations often occur in tandem. Traceability helps tackle both." We couldn't agree more. And, it looks like this message is starting to gain traction on the expo floor, too.
The session concluded with ideas for next steps that included more cooperation and coordination between marine conservation NGOs and human rights organizations; deeper engagement with industry players who are open to finding solutions; and potential partners for getting the message out to the public. We're excited to be part of the growing conversation.