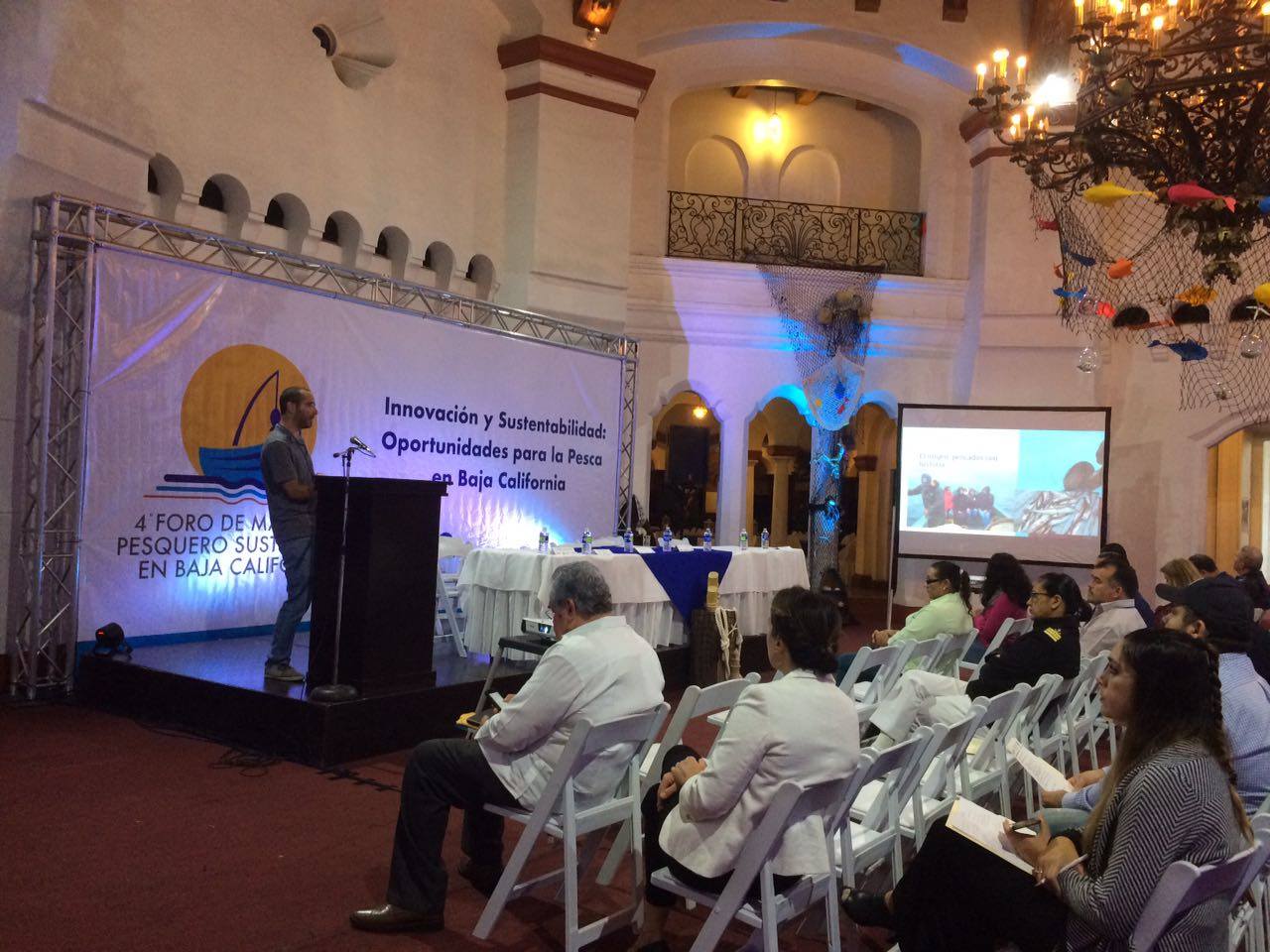 Empowering small-scale fisheries on a global stage
*** Más abajo, versión en español ***
Earlier this month, Future of Fish Research Associate Iván Greco attended the 4th Baja California Sustainable Fisheries Management Forum in Ensenada, Mexico, hosted by EDF-Mexico and the Baja California state government. Focused on "Innovation and Sustainability: Fishing Improvement Opportunities for Baja California," the event was a fantastic venue for sharing and learning how Mexico's small fishing communities can compete on the global stage.
Baja California is one of Mexico's more progressive states, and it's emerging as a land of opportunity for seafood industry innovation — "full of opportunity," according to Iván. Local government representatives, fishers, fish processors, co-op representatives, and nonprofits were all in attendance at the event.
We were invited to discuss the importance of data-rich fisheries and the potential for data tools like traceability to support fishery improvement projects underway in Baja. In his presentation, Iván shared how improving fisheries depends upon generating trustworthy data — data that can improve management and demonstrate and reward responsible practices in the marketplace.
From our early days, Future of Fish has stressed the importance of data-rich or "storied" fish in the sustainable seafood equation: without verifiable information about a product's journey from water to plate, there is no way to differentiate legally, sustainably harvested seafood from that harvested in less-responsible ways. Electronic traceability allows the story of each fish to travel along the value chain, offering greater transparency and trust and giving the end consumer a more personalized connection to their food. Access to this kind of data can bring both business and environmental wins.
But putting traceability systems in place is complicated, especially as more parties join the value chain — that's where our FDM comes in.
Ivan's talk explained how the Fishery Development Model, or FDM, is Future of Fish's systematic way of assessing a specific fishery across five dimensions to better understand its strengths and identify its areas for growth. It's a holistic, comprehensive, community-fueled approach to creating better socioeconomic and conservation outcomes through the development of data-rich fisheries. A core piece of this work includes developing solutions to support long-term funding of traceability and other improvements by looking for ways to align the value chain so investors can more effectively engage.
Iván shared our insights from years of fieldwork, and heard other organizations like
COBI
,
Fair Trade
, and
EDF
share their own experiences and innovations.
After the Forum ended, Rogelio Cano from the Fisheries Under Secretary of Baja California State Government took Iván to a nearby fishing camp to see local dive fisheries in action. There, the fishers shared their experiences and described challenges similar to those raised at the Forum — issues surrounding access, barriers to entry, maintenance costs, and poachers, to name a few.
Despite these challenges, the camp's co-op is optimistic about its future. Its 12 boats and carefully-managed ejidos, or communal fishing areas, support the local community, but there's still room for the benefits traceability can bring. The camp is a perfect example of small-scale fishers' great potential for change and willingness to sail out into new seas.
We are grateful for the opportunity to share our model for fisheries change with this forward-thinking community of stakeholders and look forward to continued discussions and shared learnings in the not-too-distant future.
Las historias y la Innovación se juntan en Baja California
Empoderando a pescadores de pequeña escala en la escena global
A principios de este mes, Iván Greco, Investigador Asociado de Future of Fish, participó del 4to Foro de Manejo Pesquero Sustentable en Ensenada, México. El mismo, fue organizado por EDF México y por el Gobierno Estatal de Baja California. Con foco en "innovación y Sustentabilidad: oportunidades para mejoras en el manejo pesquero para Baja California", el evento fue una oportunidad para compartir y aprender cómo las comunidades pesqueras de México pueden competir a nivel global.
Baja California es uno de los Estados más progresivos de México y está emergiendo como un lugar de potencial para la innovación en el mundo de los productos del mar – "presenta muchas oportunidades", de acuerdo a Iván. Miembros del Gobierno local, pescadores, procesadores, representantes de cooperativas y OSC participaron del evento.
Fuimos invitados a discutir nuestro enfoque sobre la importancia en contar con pesquerías ricas en datos y herramientas tales como trazabilidad; y cómo esto puede acompañar alguno de los esfuerzos de mejora pesquera ya existentes en Baja. En su presentación, Iván señaló que la mejora de las pesquerías depende de generación de información y de datos confiables. Estos datos pueden mejorar la gestión de los recursos y premiar con mejores precios a aquellos que adopten prácticas responsables.
Desde nuestros inicios, Future of Fish ha puesto acento en la importancia de las pesquerías ricas en datos o de las "historias detrás del pescado" ("Storied Fish" en Inglés) dentro de la ecuación de la sustentabilidad de los recursos del mar: Sin información verificable sobre el camino de un producto desde que se pesca hasta "el plato", no hay manera de diferenciar productos extraídos responsablemente (y que sean de origen legal) de aquellos que son extraídos de manera menos responsable. La trazabilidad electrónica permite que la historia detrás de cada pescado viaje a través de la cadena de valor, ofreciendo mayor transparencia y confianza y, otorgándole al consumidor una conexión más personalizada con su alimento. El acceso a este tipo de datos puede traer aparejado beneficios económicos y socio-ambientales.
Pero instalar sistemas de trazabilidad es una tarea complicada, especialmente si existen muchos actores dentro de la cadena de valor. Ahí es donde nuestro MDP tiene un rol fundamental.
La presentación de Iván explicaba cómo el Modelo de Desarrollo de Pesquerías, o MDP, es la manera sistémica con la que Future of Fish evalúa una pesquería en particular, utilizando cinco dimensiones para un mejor entendimiento de las fortalezas, como así también identificando las áreas para su crecimiento. Es un enfoque holístico, comprensivo, con anclaje comunitario, creando mejoras socioeconómicas y de conservación, a través del desarrollo de pesquerías ricas en datos. Una pieza fundamental de esto radica en desarrollar soluciones de largo plazo, que sean pasibles de inversiones en trazabilidad y otros aspectos, sostenibles en el tiempo, que buscan alinear la cadena de valor de tal manera que los inversores vean una buena oportunidad para involucrarse.
Iván compartió nuestras percepciones, luego de años de investigación y escuchó como otras organizaciones, como
COBI
,
Fair Trade
y
EDF
, también compartieron sus experiencias.
Luego de que el foro culminó, Rogelio Cano, de la Secretaría de Pesca de Baja California, llevó a Iván a un campo pesquero, donde vieron a buzos/pescadores locales en acción. Allí, los pescadores compartieron sus experiencias y describieron los desafíos que enfrentan: asuntos relacionados con el acceso a las áreas de pesca, robos de "piratas" dentro de las mismas y costos de mantenimiento, por nombrar algunos.
A pesar de estos desafíos, la cooperativa de aquel campamento es optimista sobre su futuro. Sus 12 botes y su muy buen manejo comunitario del área, ayudan a la comunidad local. Es en esos lugares donde existe lugar para los beneficios que la trazabilidad puede traer. Ese campo pesquero es un buen ejemplo del gran potencial que existe para el cambio y para "aventurarse en nuevas aguas".
Estamos muy agradecidos por la oportunidad de compartir nuestro modelo, que apunta al cambio en las pesquerías dentro en esta innovadora comunidad de actores y vemos con entusiasmo la posibilidad de seguir conversando y compartiendo aprendizajes, en un futuro no tan lejano.
Tags