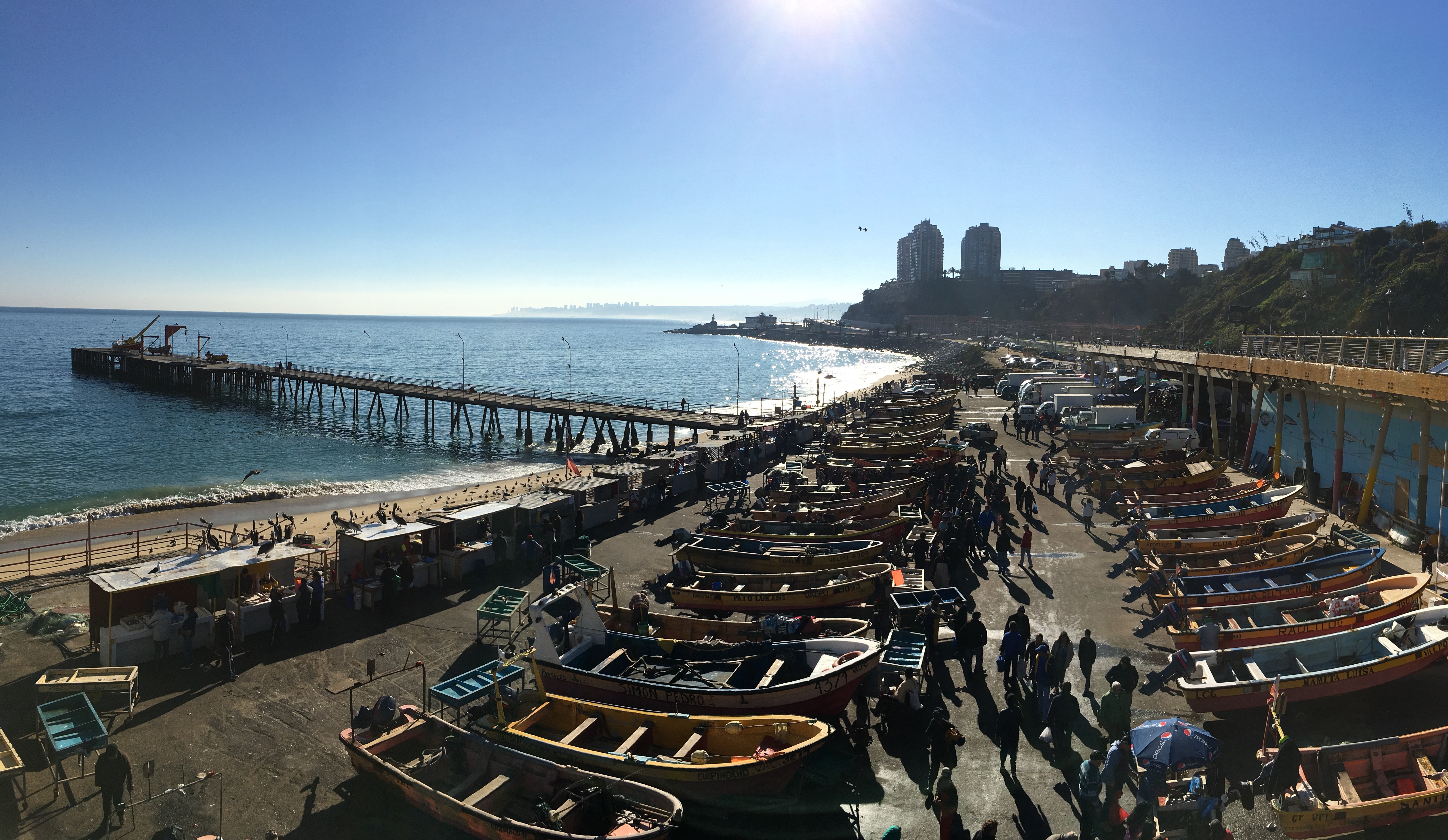 Versión en Español a abajo
Chile is taking a big step forward in the fight against illegal, unreported, and unregulated (IUU) fishing with the Chilean Senate's approval of the National Fisheries and Aquaculture Service (SERNAPESCA) modernization project. These new regulations modernize SERNAPESCA, giving it more power to fight illegal fishing and punish the supply chain players who trade in—and profit from—illegally caught seafood. The enforcement capabilities are coupled with a mandate that increases transparency in access to the Vessel Monitoring System (VMS), and makes this data publicly accessible for the first time.

A law like this doesn't emerge overnight: this project has been in the works since at least 2014, with NGOs like Oceana providing essential input and encouragement alongside SERNAPESCA. The modernization project comes in response to the increased understanding of the high levels of illegal fishing occurring in Chile since fishing quotas were slashed—to much controversy—in 2013, in an attempt to protect dwindling fish stocks. While most artisanal fishers want a legal fishery, the reduced quotas were perceived as a challenge to their livelihoods. This was coupled by a lack of enforcement that made it hard for compliant fisheries to compete, especially when tonnes of illegal fish were flowing through supply chains with minimal oversight.

The modernization law is a big step forward for increased transparency in Chilean seafood supply chains. It provides an essential government enforcement element that we hope will disincentivize overfishing, and may even help drive up market prices for legal seafood. While Future of Fish's work in Chile is focused around increasing value for and protecting livelihoods of artisanal hake fishing communities, we know that small-scale fishers can't succeed unless they're supported by government commitments and transparent supply chains. Protecting fisheries and improving fisher livelihoods is a massively complex project, and SERNAPESCA plays a vital role to making this a reality in Chile.

The new law also links into our recent work with the Electronic Monitoring (EM) team within SERNAPESCA. Countrywide deployment of an EM system is no small feat, and the SERNAPESCA EM team are almost there, having hopefully gained useful insight from a collaborative cross visit to Portland as well as input and support from experts at Pacific States Marine and Fisheries Commission. We hope the new law can support them in the successful implementation of the new EM system within the coming year.

We hope that it is part of a larger global trend towards better seafood data and increased criminalization of IUU fishing. In the meantime, we're thankful to everyone putting in hard work to improve the health and transparency of Chile's essential fisheries.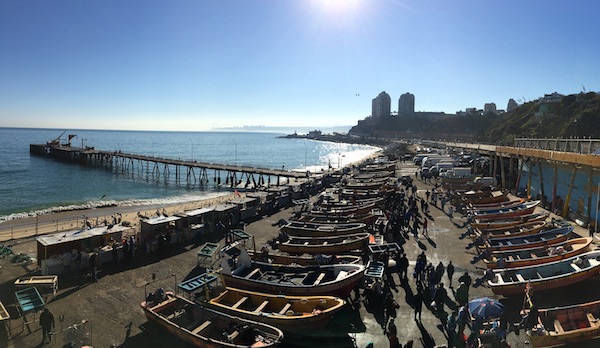 Chile pone manos a la obra para mitigar la pesca ilegal con una nueva ley
Chile está dando un gran paso adelante en la lucha contra la pesca ilegal, no declarada y no reglamentada (INDNR) al contar con la reciente aprobación del Senado de Chile del proyecto de modernización del Servicio Nacional de Pesca y Acuicultura (SERNAPESCA). Esta nueva regulación moderniza al SERNAPESCA, otorgándole más poder para combatir la pesca ilegal y castigar a los actores de la cadena de suministro que con su comercio se benefician de productos pesqueros capturados en forma irregular. Las capacidades de cumplimiento se combinan con un mandato que aumenta la transparencia en el acceso al sistema de monitoreo satelital de embarcaciones mayores (VMS en inglés) y hace que estos datos sean de acceso público por primera vez.

Una ley como esta no surge de la noche a la mañana: este proyecto se ha venido empujando desde al menos 2014, con ONGs como Oceana que brindan aportes esenciales para reforzar las tareas del SERNAPESCA. El proyecto de modernización se produce en respuesta a una mayor comprensión del significado de los altos niveles de pesca ilegal observados en Chile, acentuados luego de que (no sin controversia) se redujeran dramáticamente las cuotas de pesca en 2013, en un intento por proteger las poblaciones de peces en disminución. Si bien la mayoría de los pescadores artesanales quieren una pesquería legal, las cuotas reducidas se percibieron como un desafío para sus medios de vida. Esto se vio acompañado por una falta de inspección por parte del Estado que dificultó la competencia de los actores que actuaban confomre a la Ley, especialmente cuando toneladas de peces ilegales fluían a través de las cadenas de suministro con una supervisión mínima o inexistente.

La ley de modernización es un gran paso para una mayor transparencia en las cadenas de suministro de productos del mar en Chile. Proporciona un elemento de inspección y control gubernamental esencial que esperamos desincentivará la sobrepesca, y que incluso puede ayudar a elevar los precios del mercado para la pesca responsable y legal. Si bien el trabajo de Future of Fish en Chile se centra en aumentar el valor con un incremento en los medios de vida de las comunidades de pescadores artesanales de merluza, sabemos que los pescadores a pequeña escala no pueden tener éxito a menos que estén respaldados por compromisos gubernamentales y cadenas de suministro transparentes. Proteger la pesca e incrementar los medios de vida de los pescadores es un proyecto masivo y complejo, y SERNAPESCA juega un papel vital para hacer que esto sea una realidad en Chile.

La nueva ley también vincula nuestro trabajo reciente con el equipo de Monitoreo Electrónico (ME) dentro de SERNAPESCA. La implementación en todo el país de un sistema de ME no es una tarea fácil, y el equipo de SERNAPESCA está a punto de lograrlo, y esperaramos que la visita a Portland del pasado Agosto, donde el equipo ME recibiió aportes y apoyo de expertos de la Comisión Marina y de Pesca de los Estados del Pacífico (PSMFC por su sigla en inglés) haya provisto una visión útil para tal misión. Esperamos que la nueva ley pueda apoyarlos en la implementación exitosa del nuevo sistema de ME en el próximo año.

Esperamos que ese esfuerzo sea parte de una tendencia mundial hacia mejores datos de productos del mar y una mayor desincentivo de la pesca INDNR. Mientras tanto, estamos agradecidos a todos los que han trabajado arduamente para mejorar la salud y la transparencia de las pesquerías en Chile.
Tags