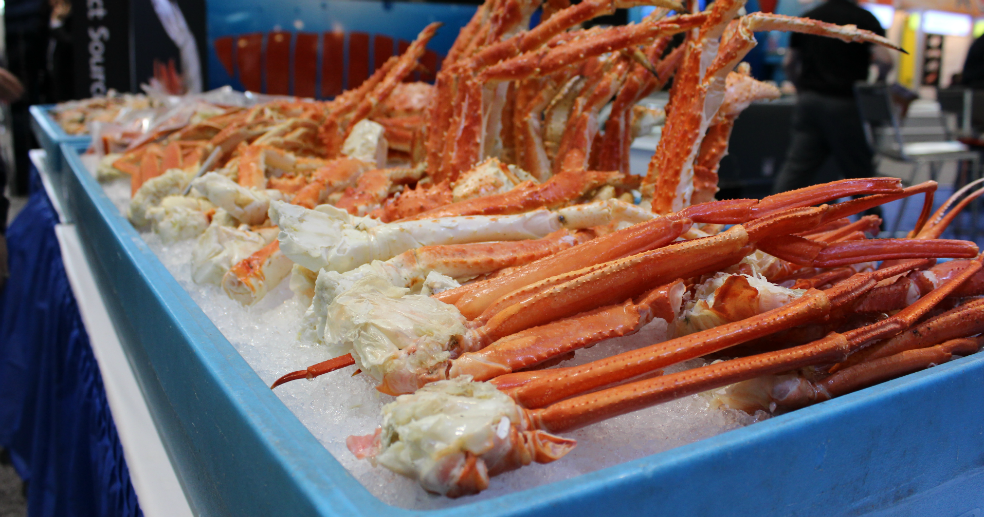 Sure, Paris has the glitz and glam of Fashion Week, but Boston is hot on its heels with the annual Seafood Expo. For the seafood world, this is a time to shine.
North America's largest seafood exposition starts March 15 and runs through Tuesday, March 17. Members of the Future of Fish team will be attending the Seafood Expo this year. Memories from last year still fresh in our minds, here are the top 10 reasons why we're looking forward to this big social seafood gathering:
Real Face Time. Unlike Fashion Week, the real beauty of the seafood show is what's under the surface. We love catching up with fellow fish nerds. Since our entrepreneurs and colleagues are so scattered round the globe, we embrace the opportunity to meet as many as we can in person.
Giant Mascots. From tuna to huge polar bears, there are cut-outs, furry mascots and balloons that rival the Macy's Thanksgiving Day parade. We wonder what will pop up this time.
Thought-Provoking Discussion. We are particularly excited for traceability discussions to gain traction at the event. After working on this problem for several years, we welcome the opportunity to meet new innovators and participate in stimulating conversations around this crucial topic. If you have a story about your experience with traceability technology that you want to share, let us know here: @futureoffish.
Processing Demos. It's always eye opening to see new shiny machines that sort and wrap seafood – all hands-free. The best part: The on-floor demos rely on stuffed stand-ins to showcase their efficiency without splattering real scales. Our favorite from last year was the plush lobsters.
Eye-Catching Packaging. What shows up at the Expo sure isn't your grandmother's tuna can. Last year, the Expo featured sleek and elegant packaging for seafood, from caviar tins that sparkled like gemstones to Bumble Bee's Wild Selections brand. For us, it's amazing to see – and smell – the all the unique ways to present fish.
Unofficial Theme. Last year sustainability was the buzzword. Every aisle boasted booths that claimed some attribute relating to sustainability: local, traceable, fair-trade. We wonder what the theme will be this year. Our suggestion: Traceability.
Samples. Mmmm. Who doesn't enjoy some fresh, free samples? They're everywhere.
A Party Booth. Last year there was a popular booth decked out with beaded curtains and neon lights. Our fingers are crossed that an enterprising business picks up the "disco-booth" baton this year.
Deep Dives. The conference schedule shows several sessions that sound interesting to us, including these ones: "Traceability: Enhancing Business Performance, Reducing Waste and Fighting Fraud" and "Storytelling as a Way to Increase Value and Promote Sustainability" led by our Pod member Steve Vilnit.
Super Weird Stuff. This Seafood Expo showcases some truly bizarre things. We've seen gigantic mechanical polar bears with flashing eyes, imitation crab packaged like yogurt shooters, and the largest lobster we've ever seen.
We look forward to walking the aisles, attending talks and – most of all – connecting with leaders we're privileged to meet during this world-class event. Come talk to us at the event and follow the action @FutureofFish with #SENA15.
Photo: The Seafood Expo in 2014. Credit: Future of Fish.