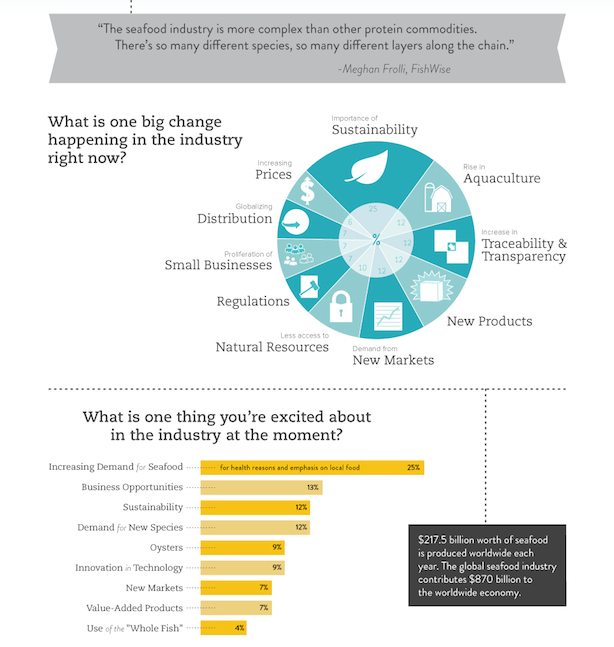 This is a preview. See the full infographic here.
The Seafood Expo North America (SENA) is probably the only event in the country where you can walk down one aisle of booths and shake hands with a refrigerated boxcar expert, an oyster shucking champion, a sculpture artist, a high-efficiency pump engineer, and a technician specializing in shrink wrap.
The largest seafood trade show on the continent, SENA offers the unique opportunity to meet and mingle with people from every possible facet of the seafood industry: fishers, distributors, processors, chefs, and the myriad support businesses that depend on and facilitate the movement of aquatic life from water to plate. Wandering aisles upon aisles of booths, it's easy to understand how the trade of fish racks up a $100 billion dollar price tag every year—and why ending overfishing is such a complex problem. The challenges and the opportunities these businesses face, and the avenues for supporting responsibly harvested fish, vary wildly depending on where you stand in this interwoven and incredibly diverse land—er—seascape.
We decided to take advantage of this convergence of seafood industry representatives to ask four simple questions about what the industry looks like from the inside. Though not our typical Discovery process, the project is a way to get a "quick and dirty" read on what matters to the players in the space and what ideas they may have for pushing the needle on change.
Here is what we found out (full infographic here):
The majority of respondents (at least twice the number who gave any other answer) named a growth in the importance of sustainability as the biggest change happening in the seafood industry right now.
Sustainability, new markets, and new products were the areas of growth and excitement highlighted most frequently.
Access to natural resources (e.g. wild fish) was noted as both a changing condition and a significant challenge.
The majority of respondents considered government regulations and demands by NGOs to be a significant challenge.
A common theme across almost all industry respondents was a desire for consumers to understand more about the story behind their fish: the who, what, when, where and how the seafood got to their plate, the effort it took, and how quality varies based on this journey. In other words, industry players want consumers to understand that "Every Fish Has a Tale" and that story matters.
This project provides a glimpse into what the industry is seeing from the inside, and what industry players want the end customer to know. Next, we will take to the streets at Sustainable Seafood Week NYC May 6-11 to ask some of those customers what the seafood industry looks like from their perspective, and what they wish they knew, to get a sense for the issues of importance to consumers and how they compare to these industry findings. Stay tuned…
Are you part of the seafood industry? What is surprising to you about these findings? What are we missing? Not part of the industry but interested in fish? We'd love to hear from you, too. Leave a comment and let us know your thoughts.
Tags